Hurricane
October 5, 2016
The world spins around me,
Circling closer,
Never ceasing:
Things to do,
Things to say,
Places to be,
People to please…
Pressing in around my being:
Due dates,
Start times -
Don't be late!
My head is swirling
My breath is shaky;
So many things to do all at once!
And the clock keeps ticking,
Ever faster
Urging,
Mocking,
Keep up! Keep going!
Don't be late!
I'm scrambling, running
My feet start slipping
Rolling,
Sliding,
Losing my grip.
I'm crawling forward
Over rocks and dust and mountains;
Through weeks and days and hours and seconds -
The seconds ticking,
ever ticking,
Marching relentlessly on ahead.
So many things I must keep track of:
Schoolwork,
Friends,
Exercise,
Sleep...
Don't forget! Don't forget!
There's no time to stop,
No time to rest.
My head is pounding,
I can't take another step.
Stop! I yell
Into the hurricane,
Just stop!
I flop onto my bed
exhausted,
I can't! I sob,
God, I can't!
I hug my pillow,
My body trembles.
Beaten, defeated, I give up. 
My sobs pierce the silence.
The silence.
I hadn't noticed it before. 
The room is still, peaceful, unmoving.
I close my eyes
And there is darkness,
Nothing -
Black and deep and soothing.
My breath slows down,
My body relaxes
The incessant clock is finally quite.
It comes to me in the silence:
I don't have to hold on anymore.
One by one I take my worries into my hand
And throw them out into the huge black hole;
Out into the darkness I toss them
Away, away, away.
They disappear like stones sinking into water,
Absorbed by the stillness.
I keep on throwing until everything is gone:
My responsibilities,
My wishes,
My dreams,
My worries.
Then, when they have all disappeared, I jump in after.
My body sinks into the darkness,
Dropping and rising at the same time,
Floating in the soothing coolness.
My body is light,
I feel like I'm flying
Soaring,
Dancing
Through the air.
I'm out of control,
I'm completely happy. 
My tear-stained face breaks into a smile.
I know I'm not alone anymore,
There's something bigger that's in control.
Whatever happens is in its hands:
My life,
The world,
The universe.
I am just a feather,
Floating in the expanse of God's heart.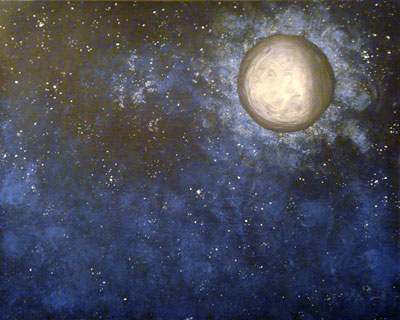 © Allison H., Vancouver, WA