Here I Am
February 26, 2017
There I was, your little girl,
Staring at the pictures on the floor,
Of your tiny face in the big scrapbook,
As Mom explained to me how you weren't here,
And that you lived far away.
Piece by piece, I learned more and more,
She told me as we sat on carpeted floor,
About you and how I had your hands,
A tear rolled down my cheek,
Mom wiped it away with more words.
There I was, a bit older now,
Being tucked into bed as the moon came out,
I kept asking questions about you every night,
Mom answered them as best as she could,
But there were things I still could not know.
My stepdad adopted me, and gaps were filled,
Mom stopped answering questions and I was still,
But I still thought about you and your life,
Away from me, and with your wife,
I pushed the thoughts aside.
There I was, a few years later,
The compressed thoughts and questions about you burst,
and overflowed out of my mouth,
Mom told me new things I hadn't known,
This time, tears rolled down her cheeks.
I learned your name and where you lived,
Learned that you hadn't told anyone about me,
Would I have tarnished your reputation?
I began to hurt with understanding,
This new view of you etched into my skull.
There I was, just a couple years back,
So close to accepting that you would never be here,
When you reached out to me with your foreign hand,
And we talked for a few blissful moments,
Joy muddled with hope overshadowed the old resentment.
But I never heard from you again,
And in a way, that was even more painful,
Than if you had never talked to me at all,
The possibility of you, melted into sadness all over again,
And then into anger.
Here I am, the past behind,
At least, I know, you know I'm alive,
But I'm still here, exiled,
Beyond the reaches of your caring and love,
It's a dry, deserted place.
If only you knew, that I would give you a second chance,
I've been broken over and over again,
But I would let you in if you knocked,
Because I'm finally admitting that I want you.
Here I am, a little girl who wants her dad.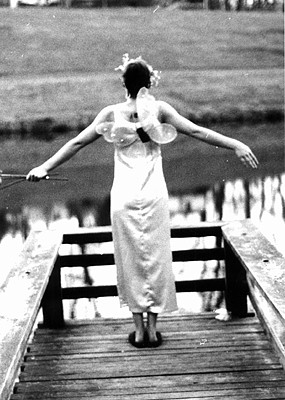 © Jennifer T., Cincinatti, OH