What the Brain Senses
December 2, 2019
A swift, gust of wind across your dry, cold chest or gigantic, wet raindrop on your cheek.
Sharp nails scratch against a rough, blank chalkboard or the roaring, running water down a creek.
A salty bite of crisp potato chips or the sour, bite of ripe lime.
The thick air after a rainfall or the dull, metal smell of a dime.
A dark group of thunder clouds or the sliver of bright, sunlight behind the mountain peak.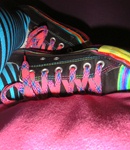 © Melanie R., Milpitas, CA