Not A Worry In The World
July 24, 2011
Pre-school starts today
We're all running free
In the playground and the park;
You're here, next to me.

We're sitting on the swing-set
Laughing, you and I
Going higher, and higher,
Pretending we can fly.

Not a worry in the world
Not a care at all
We keep on going higher;
We're not afraid to fall.

First day of school
Kindergarten now begins
I want to play dress-up and you, dinosaurs;
We draw straws to see who wins.

We're playing by the sand-box,
Laughing, you and I,
Our smiles growing wider and wider
Giggles reaching the sky.

Not a worry in the world
Not a thought in my mind
Except of being here with you
Standing side-by-side.

My 10th birthday party wish
Has actually come true
You bought me and i-pod touch
And I ran to hug you.

So many people gathered
Not a moment for ourselves
Each person brought a gift;
They piled in the kitchen shelves.

Not a worry in the world
But my thoughts were stuck on you
Hoping that you'd be waiting after
And wanting to see me, too.


High-school, my-oh-my
We're teenagers now
The years passed us by so fast
We can't stop thinking "how?"

Constant tests and exams,
My first love, my first heartbreak and fight,
I cried and you held me, comforting me
All throughout the night.

Not a worry in the world,
Not as long as you are there
Helping me and raising me up;
I always know you care.

Grad has come too quickly
I realize just now that we must part
I see all our past, our memories;
I feel our laughter in my heart.

I see your smile at age two,
The same now, as it was then
I wonder, as you take your diploma
When I'll ever see it again.

Not a worry in the world
Did I have until this day
When I finally, just noticed
What we had was about to slip away.

The second I grabbed my diploma
I ran, racing out the door
I couldn't stay there one more moment;
I couldn't take it anymore.

You followed me outside
And I threw my hands in the air, crying "this is it"
But you surprised me when you turned
And said "Babe, I'll never quit."

You came and held me in your arms
And then you kissed my lips
All this time we stuck by each other;
It was for this very moment of bliss.


Not a worry in the world
Did I have when you held me tight
And even now, though years have passed
I tell you each and every night:

I remember our days in preschool
I remember swinging on the set
I remember laughing carelessly
I remember the first day we met

I remember kindergarten,
And I remember dress-up too
I remember playing with dinosaurs
I remember each and every moment with you

I remember crying myself to sleep
But knowing in the end, I'd be alright
I remember your words of comfort,
Your arms holding me through the night

I remember the day that I almost lost hope
But you held me and told me not to cry
You kissed my lips and whispered to me
"Please be happy" and "this is why":

We were friends from the beginning
But we've grown to be so much more
I don't care about anything that comes in our way;
Honey…What we have is worth fighting for.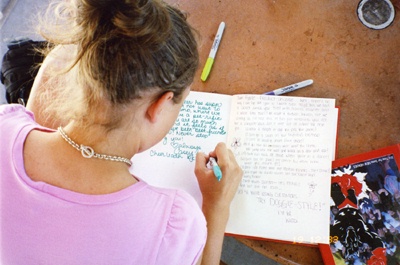 © Jessica S., Pheonix, AZ