When Darkness Descends
November 20, 2010
There's this thing that I fear the most,
Something that haunts me everyday.
A cursed life that I never chose,
It drains my soul in everyway.

Like a demon chasing me in the night,
Never giving me any peace.
Clogging my throat, dimming my sight.
Seems the pain can never cease.

(Chorus)
When the sun goes down for the night,
That's when the creatures come out to prowl.
The only hope is the small moonlight,
Which is darkly dimmed by the wolves' howl.
All my hopes of help and rehab,
Darkness makes the madness begin.
All my hopes that I'm not all bad,
Are wiped away when Darkness Descends.

They told me not to be scared,
That it would all be okay.
ButI don't see how it's fair,
How much I long for it to be day.

No, I don't want to be a monster,
The need for blood is growing dire.
If only my will to fight were stronger,
Now it seems I'm lost in the bloody fire.

~Repeat Chorus~

(Bridge)
The dark used to be my friend,
Now I fear it's looming prescence.
The thoughts of shadows makes me cringe,
I lost all shreds of decent existence.
(Somebody save me)--(whisper)

~Repeat Chorus~

(End)
When Darkness Descends,
Darkness Descends.
My will to fight is torn away,
When Darkness Descends.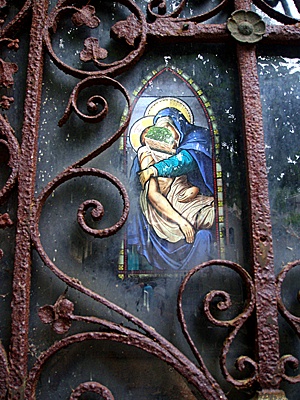 © Rebecca Y., Los Angeles, CA