Pawns and Kings
August 3, 2013
What if there is no world left to save?
What if there's just ruins where our songs were once sang?
The airplanes containing fire melded from greed would be the new night sky.
All the paintings and portraits of hope and peace would wither up and die.
Where mothers send their sons to go fight for another man's greed.

What if there are no people left to govern?
No people to rule. No people to control.
The liar's ignition sparks the people's fear.
See the eyes of the pawns and watch them be wasted.
This is my plea to the the corrupted snakes.
Why can't you see what lies under the lakes?
Seas filled with faces of the passersby.
Boats made of paper, power and lies.

This is my plea to the unseeing leaders.
Look at what we're doing. Dying by the thousands.
What are we fighting for? What are we dying for?
They're out there so cold, so afraid and worried.
Wondering if this day will be their last.
While you just sit there, talking through that forsaken mask.
They're out there for nothing. For paper given fake value.
Serving and dying and crying for you.
While you sit there judging who lives and dies.
Our brothers, sisters, fathers and sons are left screaming at the skies.
So go ahead, enjoy while the day is still sunny.
When will you realize that there was life before money?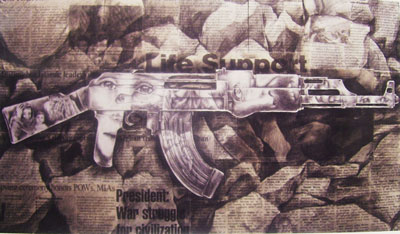 © Claire V., Lubbock, TX