The Lonely Road
July 26, 2014
Everyone
Knows everyone else
Their circles have all been made.
They don't see
The quiet girl
Who sits by herself in the shade.

Eyes downcast
Shoulders slumped
Her lips bear a half-hearted smile.
Blinking hard
To hide the tears
Of sadness, refusal and denial.

She walks a lonely road
It's silent, cold and dark.
She needs a ray of hope
A cheerful little spark.

Then you walk
From the group
You've known for years and years.
Noticing
What no-one else did
A girl all alone with her tears.

And when you get to know her
You feel a sense of peace.
And when you spend time with her
Your troubles seem to cease.

You joke and laugh together
You cry together too.
But through everything
You both remain true.
True to eachother
You're friends forever.

She walked a lonely road
'Twas silent, cold and dark.
You were her ray of hope
Her cheerful little spark.

You changed her life
She never will forget
Your love in times of strife
The example you set.

Then one day
In a far-off town
With friends ever by her side.
She remembers
What you did
And welcomes the friendless inside.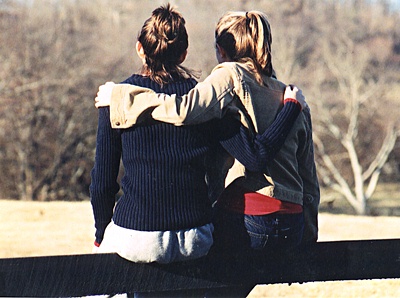 © Jaime M., Wichita Falls, TX