Such a Silly Thing.
March 21, 2011
I'll deny it more and more each coming day.
I'll never face the questions that I ponder over love.
I'll never admit to a soul that I might possibly believe,
Or that it's something I would give anything to be apart of.

Why should I place faith in such a silly thing?
It's absurd, like placing a blade in the bottom of my heart.
Why is it that something so risky and dangerous
Is the reasoning behind the creation and progression of art?

There's so many questions to this adoration.
And there's no reason to claiming it only "chemical."
Because something so beautifully honest and brave
Can only come from the very depths of our soul.

I've told myself always that love is nothing but a word.
Meaningless while it only consists of four misplaced letters.
But why is it that this word alone lifts us off our heels,
Lifting our sorrows as if their weight was nothing but a feather.

No, I still must confide the truth to darkness.
If I were to open into the light I would surely loose myself.
To simply allow someone to take and mend this heart,
And keep it like some trinket or toy on a pampered shelf.

Maybe it's because I always feel terribly alone,
Perhaps it truly takes two people to realize that we're alive.
Maybe it's the key to another's heart and love,
That bond and trust that really makes sparks fly.

I have no idea where I would begin,
And I'm afraid to think of what I would become without these walls.
These stone hedges that protect me from the others,
But also act as a veil to hide my flaws.

Though, I suppose there's always a chance.
After all, they say there's love out there for everyone.
And who even knows,
I might one day fall in love, all during the long run.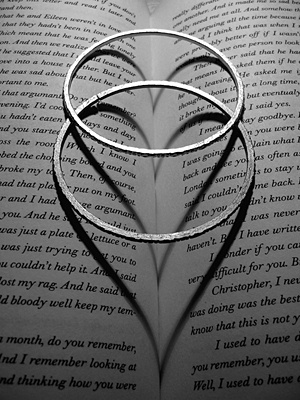 © Julia K., Old Tappan, NJ