Sonnet No. (Band) Ten (Hut)
June 22, 2017
Between the heat and shade and sun and glare:
The flash of silver, brass, and rhythmic feet
Has gone too long for runners still to stare
As band prepares to march the downtown street.
The clamor of the drums, the cadence, shouts
Directing shoes to meet the rubb'ry ground.
Step right, step left, and our director pouts
When intonation's lacking in our sound.
For hot as stage lights bright may seem to be,
They pale in a contest with the sun.
Our beauty concerts flaunted seems to flee
Since practice for parading has begun.
This month of May has brought us to the track,
And band kids beg: Indoors! Let us go back!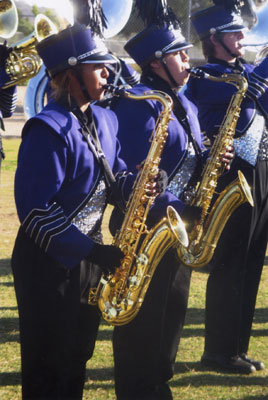 © Laurie R., Phoenix, AZ