The iPhone
February 26, 2011
How science has improved my life"…I'm stuck. I toy with the slip of paper in my hand, addressing the three-to-five paragraph essay, due September first assignment, wondering where to start. Washing machines, light bulbs, computers, candies, fire trucks…so many ways science has made my life better, but what subject should I choose? Which topic should I focus on that wouldn't be too strenuous to write nor put the class to sleep? I would also need those lagniappe points, dished out to those who could prove their vocabulary was wide. Mine, however, is as thick as this paper without the use of Dictionary.com. So for a little inspiration, I plugged my iPhone (the thirty-two gig my dad blessed me with) into its rightful dock, chose a Coldplay song and "Speed of Sound" blasted. I suddenly remembered an app on my iPhone for searching up good vocabulary words, so I began to filter my essay so far. Then it hit me: my iPhone (a scientific wonder of technology) was improving my life.

IPhones, iPods, and iTouches are truly great additions to the world of technology. The first iPhone was introduced to us on January 9th, 2007, designed and marketed by Apple Incorporations. The iPhone obviously functions as an iPod and cell phone, but also has internet access and a camera, more memory then the designers of ENIAC could have ever dreamed of, and all of your further applications, otherwise known as "apps". They are provided for free or must be purchased, and can do anything from tell you your horoscope or send you the latest issue of Entertainment Weekly. I've even found the strangest apps, even one to tune a guitar and one app to find you apps. The iPhone we know today was made with incomparable software, run on an operating system known as iOS, a variant of the same system found in Mac OS X.

IPhones are extremely helpful, especially when it comes to school. As I write this essay, I am shuffling through Dictionary.com, searching for better terminology for my paper. I've frequently used my Google app to find information for past papers and worksheets. And when I am bored, I can always rely on Tap Tap Revenge Three to cheer me up. But even when I have no internet access, there is always a voluminous playlist on my iPod to listen to. So even when I'm not using my iPhone for my pragmatic and studious life, I use it for a little R and R.

So while some people agree that iPhones are unhealthy if excessively and unreasonably used, you can't deny the wonder of technology of it. The creators of ENIAC would have been surprised to see their room-sized computer can now fit in your hand, and have more memory, the capability to hold music and take pictures and call and text your friends, along with the availability of this curious new-fangled idea called "Wi-Fi". And while there have been so many other things that have improved my life (note: electricity, light bulbs), the iPhone was the object that caught my attention, the one I really wondered about. The one that helped me really write this essay was the masterpiece of Apple Inc. When the early designers pondered their minds for the first computer, the first typewriter, the first light bulb, we are thinking of cameras that work without lens, cars without wheels, and jets that move at the speed of light. Seems crazy impossible, right? Maybe not so impossible as you thought.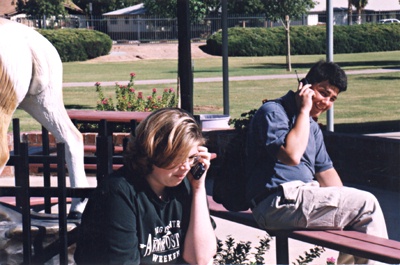 © Brandi M., Litchfield Park, AZ