The Book Thief: Another View
September 8, 2021
The Book Thief, by Marcus Zusak, is an excellent reading choice. Focusing on a small town in Nazi Germany, using the narrator Death, Zusak paints a beautiful picture of humanity, love, death, and survival. He is unusual, focusing on the enemy during World War Two, rather than the Jews or the Allies. This is absolutely necessary, though, because it shows that even Nazi Party members were capable of having compassion, families, backstories, ordinary lives, and even heroism. No author has shown the German side of World War Two with such brilliance.
This book has many treasures in its pages. The reader will laugh at Death's witty remarks on human nature, feel terror and sadness and alienation and friendship. The reader will experience Leisel's coming-of-age with her loving foster parents. Once a traumatized orphan, Leisel has to grow up quickly during World War Two. She learns to read, and her voracious love of books drives her to commit the ultimate Nazi sin—stealing books from a book-burning fire. She helps keep the secret of her foster parents hiding a Jewish man in their basement. She throws bread to Jews who are being dragged to death camps and finds a million tiny ways to resist the hatred she'd trapped inside. Reading is more important to Lesiel than life itself, an important lesson in our world today, when powerful people are once more manipulating words to fit their agendas. Leisel's shameless audacity in loving words ultimately saves her life.
One poignant plot twist is Leisel stealing books from the mayor's wife's library. She bad-mouths and hurts this woman's feelings and ceaselessly raids her house, right under her nose. What Leisel doesn't know is that the mayor's wife likes her stealing habits, as they make life more interesting and drag her out of depression. So the mayor's wife starts leaving little gifts for the book thief. Eventually, the mayor's wife gives Lesiel a diary in which to write her life's story. Writing her story in the book late one night in the basement of her home, Leisel survives the bombing of her town. When she has nobody left to care for her, the mayor's wife takes her into her home.
In a sense, the mayor's wife is a Christ figure. Leisel robs her and tramples her, and in return, the woman gives her the most precious gift of all—her life. The Book Thief is full of beauty and brutality, hardship and sacrifice. The words and fascinating plot twists may forever change the way you look at the world.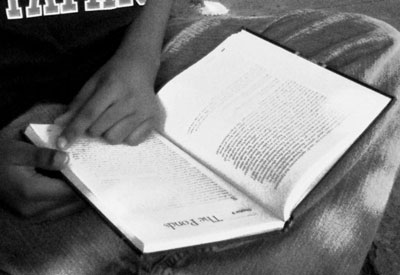 © Allan L., Plano, TX