Crush by Lacey Weatherford
October 14, 2012
OK, to be perfectly and completely honest, I wasn't expecting to like this as much as Lacey Weatherford's Of Witches and Warlocks series. So far I've loved everything she's ever written, but I generally prefer fantasy to contemporary. So, I expected to love it, just not quite as much. Hah. I was wrong. This is probably Lacey's best novel yet.

For characters, you have sweet, thoughtful Cami, mysterious, troubled Hunter and geeky, unsettling Clay. I really loved Cami. She's very kind and naive to the point of obliviousness at times, but there's a fierce stubborn streak that only comes out when you push her a little too far.

I thought upon first meeting him that I wasn't going to like Hunter much. He has issues like you wouldn't believe, including drug use and drinking. Despite that, you can't help but like him. He makes you laugh, he makes you sad, he makes you want to hit him upside the head in frustration, but most of all, you want to discover his secret. I came up with all sorts of theories with everything from, oh no, he's a vampire! to, hmm, is he in witness protection?

Clay is a fantastically written character. He's been Cami's best friend forever, but now he wants to be more. From the first scene with him, he gave me the shivers. The, oh dear, this is going to be sooo messy kind of shiver.

The first half of the book is mostly about Cami, though the POV alternates with Hunter. The plot moves at a marvelous pace, growing in suspense even as the focus shifts over to Hunter for the second half. And then that ending! So. Freaking. Awesome. It just pounces on you, and you think, so that's what was going on! It all makes sense now! I wanted to cheer, but it was ridiculously early in the morning and I didn't want to wake anybody up.

Whether or not you've read Lacey's other books, whether or not you like contemporary YA, you'll like Crush. It was fun, serious and adventurous all at once.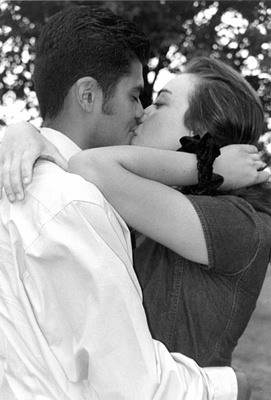 © Yaniris M., Boston, MA