The Field by Tracy Richardson
July 30, 2013
Young Adult Fiction is for girls. That is a stereotype, but it's a stereotype with some truth to it. YA is widely read by a female audience as its novels are generally written with a female point of view or are more appealing to a young girl. There is not one person or thing at fault for the lack of "boy books" or their readers. It's just something that "is". Not to say this isn't changing. In recent years, boys have been spotted reading titles like Harry Potter, The Maze Runner, and Percy Jackson. All of which are well known and treasured titles. But thanks to Tracy Richardson, there is a new novel hitting shelves this fall. The Field is without a doubt a "boy book", but it is a boy book that can be appreciated by all.


Eric Horton is the star of his high school varsity soccer team. And since he saves shot after shot as a starting keeper, there's no reason he shouldn't be. But something isn't normal about the way Eric plays. He isn't cheating or anything to that affect. He has a sense, a sixth sense almost. Just by focusing, Eric knows where the ball is going to land next. And it doesn't take long for Eric to discover that this supernatural awareness doesn't get left behind on the field. It's creeping into his social life and haunting his dreams. It's driving a wedge between him and his best friend but at the same time bringing him closer to a girl he'd never thought he'd fall for.


Eric has done a good job avoiding his sense off the field, but when his best friend starts drinking and his girlfriend starts looking at other guys, Eric begins to lose control of his sense of reality. And if that's not enough, his girlfriend's father asks Eric to participate in tests he's conducting at the local university. There's no more denying the power that Eric has. It's time to face it, time to explore it, time to figure out if Eric is the outlier or if this so called power lies within us all.



Although at times Richardson's dialogue and details come across as bland and clichéd, her readers will ultimately not be disappointed. The Field has everything a "boy book" needs; sports, science, and even a hint of romance that in the end doesn't overpower the central storyline. Richardson ultimately delivers a novel that both teenage boys and girls will enjoy reading.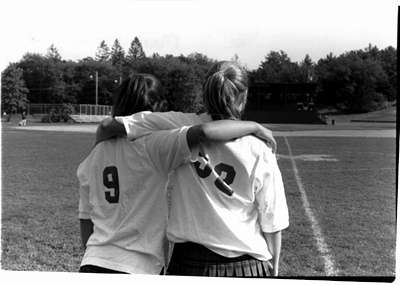 © Kelley C., Marblehead, MA