Hmm..College
January 7, 2009
College is something that hangs over the head of any student at Red Bank Catholic. We know that we will probably attend college one day in the near future, and some students have known exactly where they want to go from the age of ten. Others are utterly clueless, as I am. It is, in my opinion, the scariest thing a worried seventeen year old could ever imagine. It is a decision that could make or break your life as you know it. I am petrified that I will choose a college to move into and, after I attend that school for a few weeks, absolutely hate it. I don't want to end up with a dorm that in the brochure and on the tour looked like a palace but when I moved in it looks like a prison cell.

I began my college search about a year ago. I knew I wanted a medium-sized school that wouldn't be so small that it felt like a high school and not so large that I felt like my voice wouldn't be heard. My father attended Saint Michael's College in Colchester, Vermont. He wanted me to visit the school he loved so much. We went for a tour and I felt the school was too small for me. That school was crossed off my list. We had flown to Vermont, so he insisted we visit more than one school and make the most out of our airfare.

The University of Vermont is a mile down the road from Saint Michael's so we drove down to see the school. As we walked onto the UVM campus, I scanned the area. It was almost out of a movie. People were throwing a Frisbee around, students were playing basketball, and everyone looked considerably happier than they did at Saint Michael's.
Our tour guide, Ryan, was someone I felt represented the school very well. He had side-burns in the shape of lightning bolts and wore a tie-die shirt. His main form of transportation across campus was a razor scooter and he was president of the UVM Vegetarian Club. Students at the University of Vermont got involved with their school and with the community around the school, and I liked that very much. UVM really isn't the school for me though, I shave my legs regularly and do not smoke clove cigarettes while wearing my tie-dyed Bob Marley t-shirt. As much as I can try to fit in, I will never be one of those people.

A few months later, I was talking to my dad's sister Liz about where I would be happy at college. My Aunt Lizzie also had her opinions on where I should attend college. She graduated from Mount Saint Mary College in Newburgh, New York. She attended this small college in the 1980s. My aunt left this school with something just as important as her great education and degree: her husband. My aunt met my Uncle Tom in biology class when they were both freshman. Tom was the captain of the soccer team and is still the team's all-time leading scorer. His number was retired and hangs in the center of the Mount Saint Mary College.
As she and I walked into the open house in July, the Dean of the College, whom students affectionately called "Fat Harry," yelled out, "IS THAT LIZ D.?!" He recognized my aunt after seventeen years. She graduated in 1990, yet her impact on the school lives on. All of the teachers who taught her in college welcomed her back with open arms and she spent over three hours catching up with people. Mount Saint Mary College is too small for me. It is a safety. I am almost guaranteed admission to this school. The student population is less than two thousand. I feel like it would be RBC, yet in a boarding school. Every dorm has its own bathroom and shower. This is amazing but does not sway my decision. Actually, ironically, the minute after I finished writing the previous sentence, the mail arrived at my house. I had been accepted at Mount Saint Mary's. Is it a sign? Who knows? All I know is that I honestly do NOT wish to attend that school.

I knew that I did NOT want to attend a school that was close to home. I did not want to be someone who spent every waking weekend home, pining over being away at college and missing my mommy. I wanted to go somewhere far enough away that I could come home if I desired, yet not so close that I could make it home for dinner every night. I blew off Rowan University as a possibility as soon as I heard it was located in New Jersey. Even though it was two and a half hours away, in Glassboro, I stubbornly refused to go see it. My good friend Danielle is currently a freshman there, and I went to visit her along with my friend Aimee about a month ago. Honestly, I was not expecting much. As I walked onto the campus, I was pleasantly surprised. The dorms were not as awful as I had expected and the area wasn't as scary as everyone described it. The dining hall was beautiful, with booth-style dining with multi-colored, futuristic light fixtures hanging from the ceiling. We went to a party at night and everyone was so nice and welcoming. I made friends that weekend that I keep in touch with today. Everyone was fun and they do not go home as much as I thought they would. In fact, most of them have not gone home once this first semester.

I am lucky because I have plenty of friends enrolled in college. My friend Taylor, a RBC graduate from 2008, is a freshman at Salve Regina University. My mom and I decided to take a trip up last weekend to see Salve and the University of Rhode Island. The drive was long, four and a half hours, but that is the perfect distance for me. Salve Regina is more of a resort than a university. The dorms have CHANDELIERS in them! It's pretty much out of a fairy tale. Taylor's dorm is on a cliff overlooking the ocean. My mom stepped one foot on the campus and uttered five words, "You are not going here." She's right. I would never get any work done; going to school in paradise is not an option.

The next school I looked at, The University of Rhode Island, is a good fit for me. It has a good population (fourteen thousand, not too large), a good percentage of out-of-state-students (no empty weekends on campus), and good majors. It is in a beautiful area of Kingston, Rhode Island and I really felt that I connected with the campus.

I have yet to see three of the other schools I have applied too: Lynchburg College, James Madison University, and the University of Scranton. College is such a daunting process. I wish I could fast-forward my hectic life to June so I can know where I will be attending come September. January and February will be crazy months; most acceptances start coming around then. Honestly, I am kept up at all hours of the night, petrified of where I will end up. I just wish it was March already.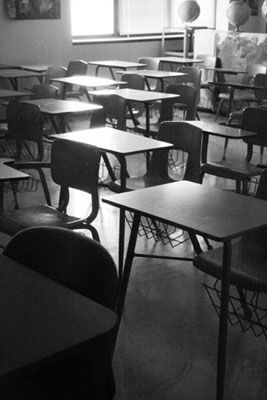 © Anonymous