Aftermath
MAG
I heard my voice choke as it echoed through the building. My palms were sweating as I gripped my carefully prepared speech. January 24, 2003 at Saint Anthony's - I was about to give my father's eulogy.

I thought back four days to when things were normal, before my mother and I found my father on the ground. He had been burning brush in our backyard when, as the doctor decided, he had a heart attack. I knew at that moment that my life had changed enormously, but I had no idea how much more change would follow.

In the aftermath of my father's death, one question was on all our minds: How are we going to survive? We had always depended on him for financial support and to keep our family together. Left in our hands was his landscaping business, which he had worked to build since he emigrated from Italy 27 years before. I watched it grow from a small operation to a valuable entity. Working with him was my first and favorite summer job, and he taught me the value of hard work. I was inspired by his entrepreneurial spirit and, as soon as I was old enough, began my own business in pool maintenance and management. I found that, like my father, I preferred being my own boss to working at the bottom of a management chain. I saw how much effort it took to keep a business going, and respected him for those years of hard work that led to all his accomplishments. My family decided to keep his business going, with my brother at the helm. I would help after school and during summers.

My family has always been important to me, and since my father passed away, it has become even more so. The time we spend together as a family is now more valuable than ever, since we're all aware of how fragile life really is. Nothing can fill his void. Now it is up to all of us to pitch in around the house and make it through every day. My role as the youngest has shifted to being the only man in the house, causing me to mature overnight and take on responsibilities I had never even been aware of. I have found that the most important contribution I can make to the household is to notice what needs to be taken care of, and make sure it gets done. Instead of taking part in frivolous activities and making luxury purchases, I help my family make ends meet. Working, once an option, now is a necessity.

When I lost my father, I felt I had lost my inspiration. Now I realize all my strength and inspiration come from within; he just helped bring it out. Admittedly, I find it harder to do things without him, but I have proven that I can overcome adversity myself. The support and love of my family are invaluable and I know that nothing is guaranteed. It took a lot of strength for me to give my father's eulogy, and I find now that I draw on that strength every day. Nothing in my life is untouched by his loss, but I can honestly say that I have changed for the better.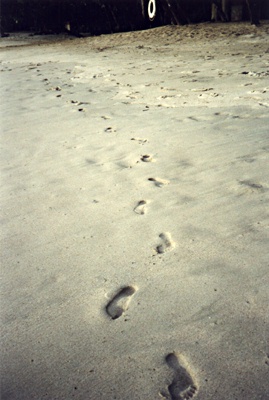 © Anonymous