Finding Athena
June 17, 2013
Coffee hits the bloodstream like an elixir, and again starts another day like most days of lethargy: classes, exams, high school. It's not that I don't love it, I do. I love holding a new book in my hands, daunting and unbelievable lists of classics and bestsellers, learning about everything from women's rights to international culture to subculture of entertainment. But there's so much you take from five days of school and ten hours of studying each day.

There are so many capes I've put on: girl, scholar, otaku (Japanese for comic/anime-book geek), etc. It seems that whenever I surprise someone I surprise myself. A burst of laughter or unexpected expletive manages to register higher on the social Richter scale than a hidden tattoo or dropped mutilated frog (which is actually pretty common for a co-ed bio class.) Yet I've managed to become a girl who forgets to smile, who seems to take herself too seriously, too quiet to be anything but nice. Sometimes, when I come home, I realize just how long I've held my breath, how my face had turned to clay from my own carving.

Sometimes, you need to take off your own mask.

But, soon night creeps over, like a shadowy cloak, sporting a few sequins called stars and one moon. Water runs down my throat, scentless, tasteless, unperceptively vital and powerful. Donning pants that seem whiter than kabuki makeup while a dark belt encompasses my waist.

There is no Gotham and there is certainly no Batman. There are no special gadgets or secret bat caves. But just two blocks away, is a small place with transparent walls and warriors inside, already training as I arrive. I step into my Taekwondo studio, alone and ready.

It took me 13 years to finally register for martial arts. Years of unrequited efforts toward various athletic activities: tennis, modern dance, hip-hop, etc., had left me feeling embarrassed and inadequate. I had already had a deep respect for sports like karate, but needed the initiative to sign up myself.

Martial arts are probably one of the best things left in this world that had such a gorgeous history and mythology and power behind it.

Most people think Martial arts is about violence. It isn't. It's empowerment; owning your anger, your body, your strength. Martial arts was probably one of the best things left in this world that had such a gorgeous history and mythology and power behind it.

Growing up I had no lack of beautiful strong women who encouraged and inspired me to do nothing less than what I was capable of, such as my grandmothers, my sister, and my mother. But growing older and more aware of my society, I see the lack of attention brought to strong, intelligent female depictions without five-inch cleavage or leather. But each year that minority grows larger with more beauty and hope and I hope to become someone inspired by such, or someone who inspires such strength
This isn't some Bruce Lee feature or feminist tirade. Taekwondo was about finding something that was mine, which allowed myself to become something other than a scholar or a twin, but also a warrior, which is always genderless.

Strength meant finding and sticking to passion, diligence, and myself.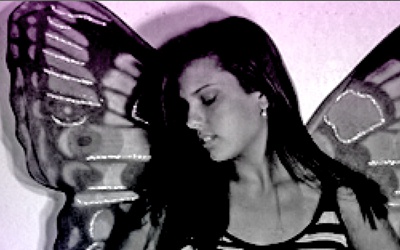 © Kathleen M., Rowlett, TX