A Closer Look at The Ohio State University
March 28, 2010
High school students all over the nation are searching for a college institution where they can find the comfort of home, an environment in which they can thrive academically, and a place where they can meet new and diverse people who will be their companions for years to come. All of these qualities are guaranteed to be found at The Ohio State University. The largest university in America, OSU has a tremendous amount to offer its students. The Ohio State University is a vibrant school that is perfect for students seeking to broaden their horizons and prepare for their future.

Ohio State's open and scenic campus is one of the many attributes that draw in students. The campus is open and beautifully furnished with large trees and historical brick buildings. The center of campus is a giant oval walkway surrounded by comfortable areas of green grass where students often gather for picnics, study groups, leisurely reading, or naps. Another memorable spot on campus is the renowned "Horse-shoe" football stadium, where Buckeye fans from all over the nation come to cheer on their favorite team.

Students seeking a very large and diverse school with endless opportunity will especially enjoy Ohio State. According to Ohio State's website, the university enrolls over 39,000 undergraduates a year, offering more than 160 areas of study and over 12,000 courses. Also, OSU offers an ever-growing amount of student organizations, Co-ops and internships, service learning opportunities, and study abroad programs. There is something for every individual to get involved in based on his or her interests and future goals.

Ohio State is one of the best values among top-ranked public universities. The estimated tuition for Ohio residents is $8,679 and $21,918 for nonresidents. Room and board averages about $8,037. This university is especially affordable to Ohioans, while maintaining a reasonable price for nonresidents. It is a small price to pay for the quality and opportunity students will be receiving while attending this university.

The Ohio State University is a large college with an enormous amount to offer. Not only will students receive a fulfilling education, but they will also gain important life skills and memories that will last a lifetime. Attending this university will allow students to meet so many new people and become involved in things they never imagined. Ohio State is a place where students can learn and grow as a person while preparing to be successful in the future.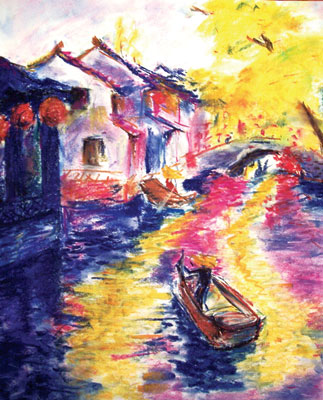 © Xiao H., Naperville, IL