My First Murder (part 1)
January 16, 2015
I was young, too young. I was drowning. I barely even knew her, it was a rash decision.

I learned the trick when I was ten. They taught me the right way to kill without being caught. I was told many times that I was being too emotionally attached to the "clients". I couldn't help it that I lost a piece of me when I saw the light fade from their eyes, when I felt them stop struggling… They told me I would never have to use the trick that I would never have to kill anyone. THEY were wrong.
         
I was taken in by the Organization Representatives Producing Hardwired Assassin Nationally, ORPHAN for short. They showed up with uncanny timing.

Flames swirled all around me, a few of the fierce felines dared to lick my face, burning me with each touch. Creaking of wood was an accompaniment to the symphony of crackling of the carpet. Inhaling deeply, smoke seeped into my lungs and would refuse to leave until they robbed my chest of every ounce of oxygen, thieves and their pride… A loud thud was heard as I plopped on the floor in desperation to escape the torched thief trying to steal my life. Putting both hands against the burning floor, I scraped myself off the ground as I lurched forward in an attempt to escape the Grim Reaper. Pulling my head down into the bend of my elbow, I coughed, coughed, and coughed as I ran across my room to the double glass doors opening into the balcony outside. Weakly, I flopped my left arm across the back of my neck as my right shoulder tensed up as I braced for the impact of the glass. Shattering across my body, glass shards cut my skin and wedged deep in my shoulder. Hitting the concrete of the balcony was one of the most excruciating pains I have ever experienced. The glass dug deeper into my shoulder and tore through the muscle. Looking up I finished the last of my coughing and wondered how I was supposed to secure a position on the ground.

Finding a ledge on the roof, I climbed my way over to the gutter and shimmied down to the ground. After the adrenaline stopped coursing so hard, a thought hit me like an eighteen-wheeler on ice. My parents.
As suddenly as the thought hit me, the roof started to creep lower and lower until it fell on top of my entire world. My world came crashing down. Staring in horror with my mouth agape, tears started streaming down my eyes, but no sound came out. I was just standing at my world in flames through blurred eyes.
No fire trucks showed up, no police sirens blared, the only sound was that of the fire and of my sobs.
That night I slept in the tall grass near the edge of the woods. Using a rock with some moss as a pillow, I got as much sleep as a kid who just lost her parents could. Which, in case you didn't know, is between a blink and a slight doze. Nightmare kept jerking me awake, dripped in sweat, even though it is in the middle of winter.
When the sun started to wake up, the warm glows began to caress my cheek, giving me the feeling that last night was just a dream. As soon as my eyes began to flutter open, a dark figure came into my vision. I began to gain consciousness and I scrambled back as soon as I realized that the sun was not the only thing caressing my face.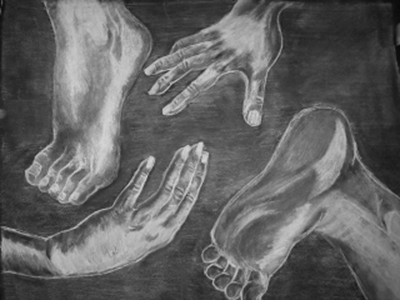 © Rachel U., Danbury, CT