I'm Not Dead
January 3, 2010
Everyone sat around my dead body at the funeral home crying, and I sat on the empty seat by Chad, staring at him but too scared to say something, touch his shoulder, and tell him everything would be alright, yet I didn't quite understand who I was exactly. I wasn't attached to my own body. My dead body was in the coffin, lying still, not taking a single breath. Here I was though, right next to Chad, and no one noticed.

Chad suddenly got up and walked to the coffin, and I followed behind him. He stopped and kneeled down, and whispered sadly, "Casey, I'm so sorry. I love you, I really do…" A tear fell down his cheek.

"Chad! I'm here! I'm not dead, I love you too. I do." Chad didn't hear a word, despite the fact I was yelling hysterically in his ear.
It was Valentines Day at school. Chad had stopped me in the hallway, and handed me a long stemmed red rose, kissed me on the cheek and asked, "Can I take you out to dinner tonight baby?"

I smiled warmly, "Of course."

***
He picked me up around seven and we drove to this fancy high class restaurant called Finn's. We got a nice table seated for two, and we had a lot of privacy. We talked and talked and talked about the silliest things. We enjoyed one another's company. ***
My dad touched Chad on the shoulder, and Chad got up slowly. They grasped one another in a hug and both started crying, and I've never seen either of them cry like this before.

"I'm so sorry Mr. Michaels. It's my entire fault." Chad said, almost a whisper, as he cried.

"No, Chad, it's not your fault. You didn't do anything. I'm fine, can't you see me?!" I was practically an inch away from Chad's face, but he still didn't hear a thing.

My dad gave Chad the red rose he gave me on Valentine's Day, and even though it was dead now, Chad took it and thanked him. He slowly turned back to my coffin.

*** Dinner was very nice, and after he paid, we went back to his house. We sat on his bed talking, and suddenly he brought it up.

"Casey, I know we're barely eighteen, but I have quite deep feelings for you."

"Chad," I whispered quietly, "I have quite deep feelings for you."

"I know we have only been together for about a year now, and I know we're still young, but do…do you think I'm someone you would want to spend the rest of your life with?"

I admiringly answered, "I very much think so."

"Will you marry me, Casey Michaels?" He asked abruptly, pulling out a ring.

"Whoa, what?" I surprisingly gasped in shock.

"Will you be my fiancé?" Chad restated cautiously, losing confidence.

"Chad…we're still in high school, how can we be engaged?" The pit of my stomach flopped extremely uncomfortably.

"People get engaged in high school all the time-"

"No, Chad. No, they don't." Was he really asking this?

"Do you not want to be with me anymore…? I don't understand Casey."

"I want to be with you for the rest of my life, Chad, but I do think we're a little young to be engaged." I argued.

"Age doesn't matter, Hun, it's when you're ready." Chad plainly stated, yet annoyed.

"Just let me think about it, alright?" My tone sounded annoyed.

"Are you seriously mad at me for asking? You did just say you wanted to spend the rest of your life with me."

"And I do!" I practically shouted, "Engagement is just…another step up, is all." ***

Chad put the dead long stemmed rose on my dead chest. He was crying like a baby as he said, "I'm so sorry, Casey, so sorry…"

"Chad. Chad, I'm here. I'm fine. Why are you sorry?" Everything was confusing me.

Chad got up slowly, and walked back to his seat.

I tried to grab his shoulders, to stop him, but something wouldn't let me, so I shouted his name, which had no effect whatsoever. I burst into tears, as everyone mourned over my dead body.

"I'm not dead…I'm still here…"

*** Chad was driving me home, and he said he was fine, but I could tell he was extremely annoyed.

"I'm sorry," I shyly whispered when we stopped at a red light.

"It's 'Kay," He said shortly.

The light turned green, and Chad sped off. The next thing I processed through my head was that we were upside down and it was hard to breathe.

Chad swore loudly, then looked at me, "No, Casey, no…don't! Casey, I love you… Don't go…"

I then closed my eyes and fell into a deep sleep. ***


The Funeral Director asked everyone to sit down and after a moment he began his speech.

"We are here to mourn over the death of Casey Michaels. On the 14th of February at about 11 pm, she and her boyfriend were hit by a drunk driver. Unfortunately, Casey didn't make it…"

"Yes, I did! I did make it! I'm still here! Can't you see me? Can't you hear me? I'm alive, just not in my body! Can't you help me?" I shouted sobbingly in his ear, fighting back more tears.

"She died almost instantly," the Funeral Director continued.

No. He couldn't see me. He couldn't hear me. And he sure as hell couldn't help me.

I sat down, defeated, and as I looked at my dead body, the dead rose that rested on my chest slowly lost its red color and turned into an ugly, unpromising brown.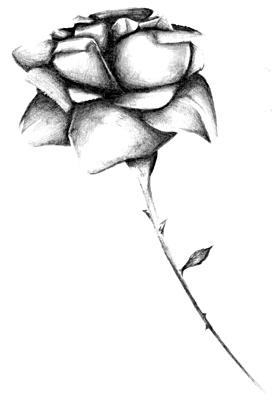 © Yisrawayl G., Philadelphia, PA