The other side...
February 17, 2011
As I'm sitting in my green little chair, all dusty and the forest green color faded. I'm looking out into the distance with my child. Her hair is golden brown with dark brown tint streaks. Her face cute as a baby doll with a button nose. The color of her eyes remind me of a deep blue sea that can change to a sea foam green in the time it takes her to change her mood.

All I can think about is what I'm going to do when I'm gone. You see I have a very deadly illness, but it's not contagious, so thank God for that. While I'm sitting here upon my balcony in my little green fading chair my life is almost like this chair. I too am fading away into the heavens above, waiting, just waiting for it to be my last day just so it can be done and over with. So my daughter can quickly get over my peaceful but accounted for death, as if it never happened.

The clouds look like heaven, the land looks like what it might be before I'm taken. My heart is bleeding and beating so very hard. One…two…three…and so on so my heart says. I can feel a wheeze come upon my chest as if being suffocated, but every third breath is a sign of faith, that God himself is also waiting for me, for my last moment, my last breath alive. The air fresh, clean and crisp, but once it hit's me it's like a POW! To the chest every two times I breathe. I'm deciding whether or not to jump over this balcony when my daughter (No scratch that, my loving and caring daughter who would risk her life instead of mine) is not looking just so she does not see me back in the hospital and not alive…dead. Don't get me wrong I love my daughter but my pain just has to stop sometime and I think now's the time.

For each second I think I'm taking steps over to my chair but in reality I'm not. I get closer and closer to the edge of the balcony. As I've been counting down from three I must say one, for I have already thrusted myself over the balcony. My last words were, I love you my baby girl.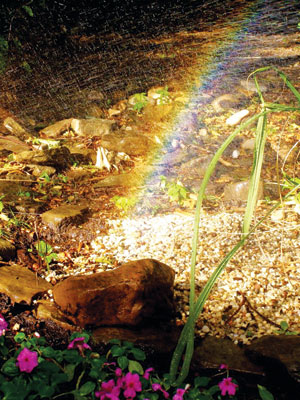 © Kristine B., Setauket, NY