Circles
July 12, 2011
Circles. I'm spinning in circles. My arms feel as if they are being tugged outward and my feet threaten to trip over each other. My head tilts back and a laugh rolls off of my tongue like the soap bubbles a child makes. It is not the way one laughs at a joke, rough and uncontrolled like a light cough, and it is not monotone or forced as laughs are when you feel as if you should. This laugh is the kind that pours out of your mouth and into the atmosphere lightly and carelessly.

When my legs become tired, I let the momentum pull me to the ground and my arms lie at either side of me. A ladybug crawls onto my toe because I am part of the grass now. It's tiny legs are small feathers that tickle me and, once again, make me laugh. This time, the sound drifts through the field and floats up, up to the sky. The sunlight licks me with it's pleasant rays and I bathe it's golden light.

I think of nothing for a while except the soft green fringe beneath me and the pure blue space above me, raggedly spotted with fluffy white cotton balls. I hear nothing but my own breathing which sings me a lullaby. With my mouth in a slight curve, I pull a blanket of the sun's warmth up to my chin and close my eyes.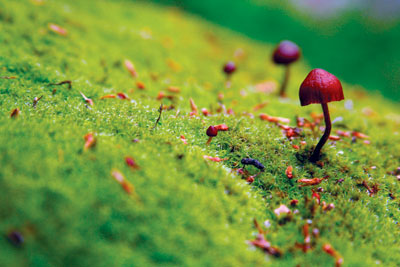 © Lyndsey B., Lake Isabella, CA