Jeremiah
April 18, 2012
                                                         
     As the tears run down my pale face I don't really take much notice of them. I guess I have cried so much I have just gotten used to it. My carefully done make-up runs down my face leaving black streaks. I walk out of the gym and turn the corner swiftly. I sit against the wall and try to collect myself.  Pain urges it's way across my jaw bone. 
     Astaria comforts me best she can as I wipe away the tears. She is such a great friend. She helps me up and I walk over to the water fountain and take a big drink. The cold water slides down my throat and I walk back into the gym with Astaria by my side. Everyone stares at me with questioning concerned looks. One girl asks whats wrong. I evade her and her dumb question like the plague. 
   We walk into the empty locker room and I go to the sink. Looking into the mirror I see, make-up running down my face. My face is red with black eyeliner running down my cheeks and a dark blue bruise forming on my  jaw line. I wash the make-up off and go to my gym locker. I slowly do the combination and pull out my clothes. I put them on and place my gym clothes in my locker and shut it.
     I don't even know why Vince hit me in the face with that ball. It was just a dumb game of basketball. It makes me so angry. I could...punch something. I sit on the bench by Asaria who is texting intently. I pull out my phone and text Jeremiah. I tell him of the incident. Then the bell rings and I put my phone back in my jeans pocket.
    I go to lunch and endure the school food. After lunch I check my phone, Text Message from Jeremiah the screen said. I open the text with out hesitation. What a jerk it said. I smiled and began typing my reply when my phone died and shut off. Crap! Throughout the whole day I wish I could text him. After about 2 hours school gets out. Ugh Finally! 
      I gather my bag and sweatshirt and begin walking down the hall and then out the two front doors. The cold air nips at my skin. I see my parents van. I walk over casually and get in. We leave and after what seems like forever we arrive home. I hurry into my room and plug my phone into the charger. My hand shaking with excitement I text him. I tell him why it took so long to text back. He understands and says it's ok. We text for hours talking about anything and everything. 
     The next day I see him! He is at the burger joint where he works. I enjoy a nice brownie fudge sundae while admiring his handsome figure from afar. It's almost time to leave my mom grabs my nephew and begins walking out the door. I fast walk over to Jeremiah and embrace him in a tight love-filled hug. Butterflies dancing in my stomach and fluttering like leaves in the wind. I wish him a good day with a smile and he does the same for me.
     Weeks pass of everyday texting, but eventually the texts get fewer and further apart.  Eventually they stop. Not trying to be annoying I ask why he has stopped texting. He calls me and after an hour conversation my heart breaks. Jeremiah my sweet angel is NOT mine after all. He has a girlfriend! 
    How could he lead me on like this? My heart broken,  I begin to cry. It's late so I cry myself to sleep. I start to dream of him and his pure beauty. I step to hug him but she's already in his arms. He looks at me with an "I'm sorry" look. Then turns and walks away. At that moment my body goes numb and I stop breathing. The pain is more than I alone can handle. 
     My mom comes in when she shakes me and i don't wake up she screams. By now she has called 911 and the paramedics are on their way. They barge in the front door and into my bedroom. They start CPR and rush me to the hospital.  Despite their efforts nothing has helped. I am pronounced dead within an hour. My mom sits sobbing at the end of the hospital bed.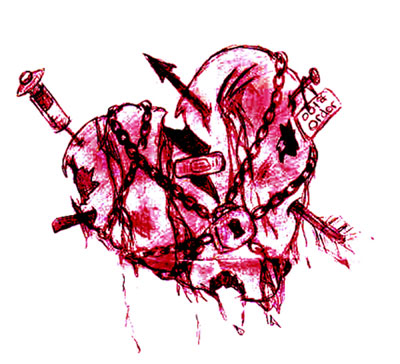 © Asia B., Hudson, MA