A Day Too Late
January 24, 2013
Chapter 1
You'll never know when your time is until it hits you in the face. didn't't realize it until the man came at me with a small dagger. Now I'm a martial artist and I know how to kick some ass but he… he was fast, inhumanly fast. He had me pinned to the ground with the dagger at me throat. My life flashed before my eyes and all I could do was beg for my life.
"Please. Don't kill me." I begged to this man.
"Now, honey, why would I kill a beautiful thing like you?" He said smirking at me. Something about the way this man looked at me, it was unnerving me. Then he pulled out a cloth and put it over my nose and mouth.
The all went black.
*Mystery guy Prov.*
She looked so tasty and delicious. I hated that I would have to give her up but not before I had a little fun with her.
Then an idea struck me. Why did I have to give her up? She was my capture was she not? I decided I was going to keep this beautiful thing.
I picked her up and carried her to my car's trunk. This would keep her quiet. I sat her in the trunk and tied her to the rivets in my trunk, so she wouldn't move. I got in and drove down the highway to my mansion.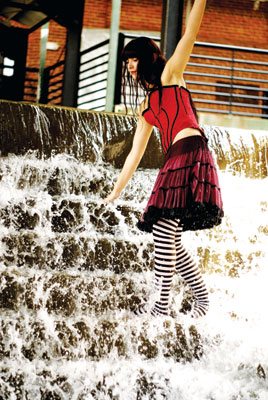 © Daniel H., Durham, NC