Red's Transformation
May 24, 2013
Red

August's black hair flashed blue in this colorful darkness, as my eyes flashed red, and my body throbbed with a lightened spill of grayness that simultaneously poured into the clouds above our heads.
"August!" I whispered, my voice erratic. "Please, you have to do it. It's happening."
The rope fell limp in his pale hands as he swallowed, his lower lip a rose carmine as he inhaled sharply.
"I can't," He murmured. His voice floated into the recesses of my mind as my pulse quickened. "August!" I pleaded.
"Red, I won't do that to you! You won't hurt me." His voice lost its slight confidence, faltering into a desperate plea.
My hands shook with a violent, dark intensity, and I screamed as my bones broke with rough brutality. I keeled over as my vision jumped and hopped around the jaded forest around me, ignoring the deaf heavens that refused my pain. Rope weaved itself around my arms, choking my wrists and slamming me against a tree.
***
August

Red's eyes flashed, from blue to red as she welcomed her inherited curse for the second time. Her bones churned and morphed underneath her olive skin, and an ugly, amalgamated noise exploded from her lips. Her arms stretched at painful, twisted angles, and the chains and rope tightened around her muscles, choking her will and every movement. I closed my eyes as I watched her's morph into those foreign, mysterious ones that held a ink-like carmine-red. In front of me Red stood on all fours now, covered in a dusted mass of gray and white fur, her eyes now blaring frightened signals as she shrunk away from me, wanting to run. I watched as the moon passed behind the clouds, and she cocked her head at me, an action that was strangely human in nature. A whine escaped her throat, long, urgent and worn, and I brought a shaking hand toward her. When my hand reached her warm, anomalous body, she curled away from me momentarily, until I sat down on the twisted roots of the tree she was tied to, and reached out my hand once more.
"Red," I whispered, my voice calmer than my erratic heartbeat. "It's me, it's August. We have to get to your grandmother, Red. She'll know what to do."
She cocked her head at me again, inching towards me. After pressing against the precious inches of space that I deemed my own, she stepped even closer, pressing her nose into my neck, crying softly.
"You're still there, Red?" I whispered, running a reluctant hand through her fur. A whisper of approval ran through her lips, and she moved slightly. I was right.
The chains rattled at my feet and I moved to unlock them, and untie the rope around her legs. Moving for her cape at the same time, I drew it across her before she could turn away. I covered my ears as she morphed again, underneath the darkness of this careful tree posed above her, broad shouldered, and protective.
When she finally emerged from underneath the tree, she held her basket and cloak close.
"August, we must go. I can't ever take my cloak off again. As for the townspeople, we have to come up with somthing."
"Like they'll believe it was an animal attack." I scoffed, wrapping disbelieving arms around her. "Red, you understood me," I whispered. "You listened. Don't you remember?"
She shook her head adamantly in my direction, hiding her face.
"Promise me," She mumbled. "That you will tell everyone that a wolf attacked us on our way to my Grandmother's. August, you must. It's too much of a risk, for you to ever try that again. Do you understand, A? I'm in too deep now. It's wrapped itself around me too deeply."
I stopped her then, running my fingers through her hair. Only now was when she would let the lingering pain wash over her, and let the tears fall. She thought that maybe I would believe she was worried for me. But we both know that was never the case.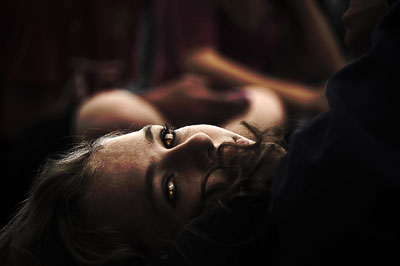 © Calvin C., Salt Lake City, UT