Farewell! (A Letter)
November 19, 2013
To begin with, this is not a letter to accomplice the fact of your farewell. Rather, it is indeed a memorandum to all the words that are left unsaid between us. A triumph of every sentence I meant to utter, but withheld, whilst waiting for the right time to say it. This letter is to cherish all the memories and flash-backs we shared, all the crazy moments we have been a part of. This is to embrace the future with dignity, and to treasure our past as the most beautiful and innocent days. This is, to celebrate the present, so when you look behind, ages later, you could always breath over the tranquility these moments owed you. This is, to thank you for letting me be a part of your life, even for a short span and that too, full of such admiration and fun!

In those two years that we shared, I gaily adored your presence. How can I forget all those hysterical laughs, at over almost no reason; those inside jokes of us; all those times we mutually played the evil guy, teasing and taunting other people just for the sake of it? Even at this deadly hour in the night, I couldn't help grinning, at all the profuse insanity that we expressed, and trust me, had it been someone else except for you, those two years wouldn't have been as much amusing as they were. You're irreplaceable, and you know it! In the days to come, people will be so unaware of what a gem you are, but do keep recalling –that somewhere back home, you're worth every 10 of all those people who value you as worthless. Do not let anyone put you down, just because you're different. If anything, your individuality is what makes you beautiful.

Your cheery tenor has always been my favorite meal of the day. Candidly, I have never seen anybody carry the prospect of being informal yet casual with such grace. Nobody is ever completely happy, but you had always been the one to hide your sadness behind your glowing smile. The way you push away your fears and insecurities in face of determination and strength is worth a lesson to learn. I am very fortunate to have realized this and at all moments in my life, when I display strength at times of distraught, I will be reminded of you.

Oh, so many things commit to memory now. You are a charming young lady -I'd give you the tokens for that. You walk into a room full of strangers and make out in a minute with a dozen of friends, each of them claiming to be closest to you. You had this magnetic personality, able to strike up with every odd person, and even people I classify as 'freaks'. Half of the times, it was pure comedy, but then again, you can have the award for the funniest humor, if that ever exists on earth.

No matter how much I write, it will never be good enough. Have a great life ahead, you have my blessings and best wishes. There will be moments when you would have to depend on other people, and submit to their will, ruling over your judgment. In those times, remember that life had never been easy, and never will be, and it is okay to lean on in other people. It is okay to feel hurt, it is okay to anger up. It is perfectly normal to experience frustration, but never let that get you. Underneath all the turmoil, keep reminding yourself how wonderful a person you are and you will never be alone. Follow your heart, and believe me, you'll never reach the wrong destination.

And lastly, as we part, I would apologize for all those cutting words I ever pronounced upon you. I never meant them in the slightest. You are, and will always be a tender part of my life. Someone who walked in and left their foot marks engraved in the sand forever!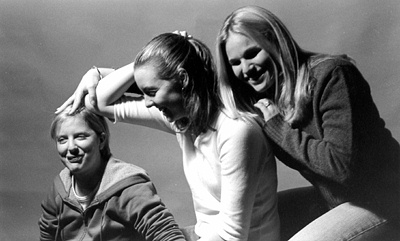 © Jeff A., Marblehead, MA