The Song of a Mother's Goodbye
December 22, 2015
A mother and son.
Chapter 1: Goodbye
"Ma."
The voice is hazy; it calls to me, slowly forcing fog upon the meadow we stroll in. The sunlight streaks through the thin screen. Peter stops us and takes me in his arms. You have to go to him, his voice echos through the clouds above.
"Mom!"
The sharp voice rips me from my husband's warm embrace.
"Mama, I'm so sorry," My boy sits next to me, "I never meant to be such a bad son."
Jonny's creased face is streaked with tears, his tattoos bunched and unbearable. I haven't seen his crying eyes since he was twelve years old, when Peter passed. His warm bear paws held my fragile, cold hand that had turned to veins, skin, and bone over the years. Lightly, I gave him a squeeze. With each passing second, he turned into the innocent boy that scraped his knees playing on the playground behind our house. I couldn't help the twitch of a smile pulling at my thin lips.
My son bows from his sitting position by the hospital bed, his forehead resting on his rough hands that now clasp my own battered limb. He whimpers into his strong arms and cries for me to stay. I let him have his time before I raise my other hand to his face.
"Hush a-bye, Jonny boy," I attempt to sing our song, " Wipe away those tears."
I raise his head to meet my eyes.
"Those blue eyes that shine so bright," I found the side of his face, feeling the skin hardened from manual labor.
"Should never know no fear," He finishes, taking my warbling voice away.
The rest of the strength I had within me fails as I pull my arm back to my side, my breathing growing faster. My eyes slowly close from sleep, the pain no longer nagging at my every joint.
"Oh, mama, I should've been there. I should've never walked out all those years ago." His blue eyes became ringed with red, his voice pouring regret.
My heart starts beating slothfully and my meadow starts coming to.
"I'm so sorry, mama," He repeats again.
I know what I must do.
"My son," I say, my warble gone, "You have nothing to be sorry for. You never did anything wrong. I loved you the day you were born and I loved you ever since."
The meadow grows clearer and my strength rebounds.
"Mama," My boy wails, "Don't go, mama."
His voice breaks into the wet gurgles of a baby.
"Don't cry, my Jonny boy, wipe away those tears."
"But all I've known is fear," He looks to me once more.
The corner of my mouth upturns into a faint smile.
"And all I've known is tears."
Finally, the meadow reappears, the sunlight warming my face.
In place of Jon, Peter sits with me and holds my hand.
"You did what I could never do," He smiles down at me.
I return the smile. He takes my hand and lifts me from the hospital bed. The grass underneath is cold and dewy, a relief from the morning sun. We walk hand and hand toward the  trees, to the place where our life had begun.
Good-bye, mama, the breeze carries through our wonderland, it's tone almost sung.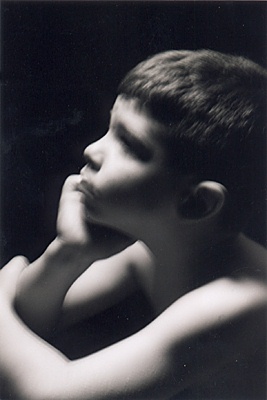 © Dena G., Pittsburg, PA