Jacob Goes to Jared, The Galleria of Jewelry
October 19, 2010
PART 1
setting: La Push street
Characters: Jacob Black; Jared; Embry Call

Jacob, Jared, and Embry are walking down the street.
Jared: Guys, I'm going to ask Kim to marry me.
Embry: Jared, that's great!
Jared: I hope she doesn't say no. Look, here's the ring.
Jared takes out an engagement ring.
Jacob: Cool ring. Kim's going to love it. How much was it?
Jared: Not much. Only all of my college fund, a little more credit card debt, my parents' retirement fund, and a few fake student loans.

PART 2
setting: the cullen's living room
characters: jacob black; renesmee cullen; bella cullen; edward cullen; esme cullen; kim

Jacob and Nessie are sitting on the couch
Jacob: Nessie, I have something to ask you.
Nessie: Okay. What's up, hon?
Jacob gets on the floor on one knee and takes out a ring.
Jacob: Will you marry me?
Nessie gasps.
Nessie: He went to Jared!
Esme: He went to Jared?
Bella: Aw, he went to Jared. (glares at Edward) Why didn't you go to Jared?
Edward: The same reason I didn't get you an island.
Bella: You still haven't given me a reason for that.
Edward: Crap.
Kim walks in.
Kim: Jacob Black! That's my engagement ring! How dare you steal my ring!
Kim walks over to Jacob and takes the ring. Kim walks out.
Nessie glares at Jacob.
Jacob: Well, I went to Jared for it!

THE END!!!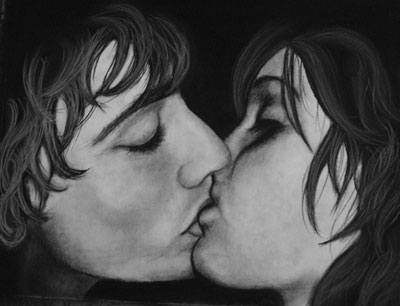 © Anna Y., St. Robert, MO