Fingers (Curse Workers World)
May 5, 2012
Michelle rubbed her lips together, checking her appearance in the mirror. She slipped on her favorite pearl earrings and gave a satisfied nod. Then she sighed. She really had to stop letting Claire set her up on blind dates.

It was only ten minutes to the restaurant, and her mystery man had reserved a corner table for privacy. Michelle was a little early so she took her seat and ordered a glass of water.

She spotted her date the moment he walked in the room. He just had that indefinable something that characterized Claire's blind dates. He was tall, handsome and wore a suit that looked suspiciously like Armani. Great, Michelle groaned to herself.

He made his way to their table, flashing a blindingly white smile. "Hi, I'm André."

Michelle smiled politely, "Pleased to meet you; my name is Michelle."

They were halfway through their appetizers and Michelle was just beginning to relax when it happened. She could tell the exact moment when he saw her hand. She had expected it, but she still stiffened as she waited for his reaction.

"You're a death worker?" he whispered, voice full of horror. "You've killed three people?"

The mix of terror and disgust on his face pushed Michelle over the edge. What did he know about being a worker? What did he know of death? He had never held his sister while she sobbed until she couldn't breathe because she couldn't remember her daughter's face anymore. He had never maimed himself to save a friend. He had never had children snatched out of his way as if he was a monster.

Her remaining fingers curled into a semblance of a fist. It would be so easy. What was one more finger, after all?

"You know nothing," she hissed.

His eyes widened and he nearly fell in his hurry to stand up. With fumbling fingers he tossed some bills on the table, leaving the restaurant at a near run.

Michelle sat in the dark corner, staring at the two fingers that remained on her left hand. André was lucky.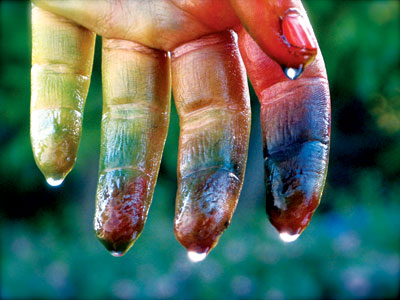 © Allison F., Menlo Park, CA