Cytus III- Cytus
February 13, 2015
Sand looks at the headgear covering Vanessa's face and sighs.
"It's your turn, Specialist." Pulseva puts a hand on his shoulder. "Do your thing."
Sand nods and frowns concentratedly at the screen, concentrating on his typing. His fingers fly across the keyboard quickly, tapping out the date, his code, the command, and the name of his love.
[29/Jul/2970:12:57:55]OPERATOR 201173V: requesting memory data, name=Vanessa
A click and a beep sound from the machine, followed by a long spell of whirring.
[29/Jul/2970:12:57:56]OPERATOR 201173V: 200 OK
Sand breathes out, unaware he had been holding his breath previously. The memories will be returned. He continues to type.
[29/Jul/2970:12:57:56]OPERATOR 201173V: requesting emotion data, name=Vanessa
The machine again whirrs loudly, but stops short in the middle. Sand pales and swallows nervously. Did he type something wrong? Looking over the code, it doesn't seem that he has. He does his best not to panic and reads the message on the screen.
[29/Jul/2970:12:57:57]OPERATOR 201173V: ERROR: 501 not implemented
[29/Jul/2970:12:57:57]OPERATOR 201173V: redirect to CYTUS to resolve conflicts
"Sand? What is the meaning of this?" Pulseva asks, leaning over his shoulder.
"I- I don't know!" he says. "Redirect to CYTUS?" He tries to decode the cryptic message. 501 means emotions... The emotions aren't implemented? But that's what he's trying to do! Does it mean the emotions aren't stored, then? They cannot be accessed? And how can he redirect anything?
Pulseva frowns. "She must have had too many feelings."
"What does that mean?" Sand asks, looking up at her. "Can't you bring them back?"
"Not all of them," Pulseva says. "We have limited memory space, remember? Ishihara went over this in that last meeting with Rayark."
"Then she'll have to live without her emotions?" Sand's eyes fill with tears. "She won't love me anymore?"
"You forget we have CYTUS, the database," Pulseva continues. "The database of music. When she hears the songs inside, her emotions will return for a short while. Have no fear, Sand."
Pulseva looks at Vanessa, still lying in her medicated coma. "All we need to do is take her to CYTUS."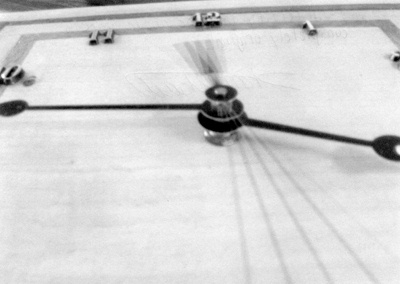 © Michael H., Milford, CT