The Creation of Minecraft
April 13, 2015
Many of the famous computer/video games have stories of how the ingame world came to be. Wizard101 and Pirate101 have the great wizard Merle Ambrose and Bartleby the Grandfather tree to thank for the creation of the Spiral as it is in present day, Transformers: Fall of Cybertron illustrates the backstory of the Transformers, and Middle-Earth's creation is told in Tolkien's The Silmarillion. But when it comes to Minecraft before Steve (or whatever you call your particular avatar), you know nothing. Its as if the pages of history have been ripped out, run through a shredding machine, burned to ashes and scattered in the wind.
This glaring blank has allowed lots of stories/theories to be made about the origins of pretty much everything Minecraft, ranging from the scientific to creation myths fit to start religions! I got to thinking about it myself, and here is my theory about the beginnings of Steve, the world of Minecraft and most of the features of the game.
A long time ago, deep in the past of the land of Minecraft, a great civilization thrived. Separated into small kingdoms, there was a defined cast system, everybody had an education, and there was even magic. One of these kingdoms, of course, was Minecraftia, called so because of it's dwarf-like obsession with tunnels and architecture.
This civilization was advanced – so advanced they could open portals to different places. However, these Portals were huge, so people began to look for ways to make them more compact, yet equally effective. International teams were put to work on the problem. However, it was an intern who found that if you built a four-by-five block structure of obsidian and lit one of the bottom blocks on fire, a new kind of Portal was created.
The world this portal sent you to was hot and covered in fire and lava, probably the closest one could get to the Underworld and still be alive. It was christened "the Nether" and several theories about it were suggested, the craziest (and true!) one being that the Nether was another dimension entirely.
The reason most people didn't use this portal was that there were monsters in this new dimension. These monsters were nightmarish creatures that were completely immune to fire and lava. The Nether was so hot that when you tried to place water, the water evaporated on contact with the ground! Even with these hellish conditions, people still wanted their own personal Nether Portals, so the obsidian market grew considerably. Minecraftia got a little more money every year. Thankfully, the monsters in the Nether didn't seem to be able to get through to the Overworld.
One day, the longstanding peace was shattered by an incredible tragedy: bombs were dropped on every capital. Every one had a warhead on them that hinted at another kingdom. Blame was cast on everybody. The war council became important again. Eventually, a small terrorist organization bent on causing chaos dropped a bomb on every capitol they could, claiming that they had been given orders from a god to do so. By the time this information came to light, sadly, the world was already at war.
Minecraftia came up with the most crafty solution (pardon the pun): to fight the war, they would make a genetically enhanced soldier. A small group of people would be chosen as the test subjects. All but one of the subjects had been drafted; they were from all walks of life. The supersoldier serum would cause them to be able to control their sleep cycles, regenerate seconds after death at a safe place from harm (proven on the field, not in the lab), and extreme stamina, strength, reflexes and durability. All this in a little bottle. The project was called Project Spawn.
Problems were compounded by a strange happening: on battlefields everywhere, people were coming back from the dead. Animals that came back mutated and turned into things that caused extreme destruction. Thankfully, only two of these new monsters stayed around during the daytime. The giant spiders remained neutral when in the light, but the weird green creatures affectionately nicknamed "Creepers" still sneaked up behind you and exploded with only a second's warning.
An effort to find the source of this strange supernatural "force" was made, and during the search some people discovered a maze of stone rooms. In one of the rooms, there was a strange portal to yet another dimension. Odd creatures with spindly legs and arms and purple eyes came out of these portals from time to time. The worst thing about them was that they could do something that no one could do at the time: teleport. The immediate consensus was that this portal led to yet another dimension. This new dimension was eventually called the End, an apt name considering that no one came out of these portals. Some wondered whether or not there was something in there keeping the missing men and women inside the End. Others believed an even darker situation existed: that their people couldn't get out on their own.
The End Portals worked in a different way than any other portal previously discovered. It was made of strange blocks that held a light green jewel inside them. These jewels had a darker green slit in the middle of them that caused most to draw comparisons to an eye. The jewels seemed to be what powered the portals, since once you took one out of it's place the portal immediately shut off. Several of the supersoldiers said something about going into the End and destroying whatever kept their fellow people-in-arms from coming back to Minecraftia, but this wasn't ever carried out.
After the End Portal was destroyed, the magic dissipated as quickly as it had grown. Sadly, some of the interdimensional monsters, called Endermen, were left behind. The monster problem had grown out of control, especially in Minecraftia, and most aboveground towns and cities were devastated. Some Minecraftians retreated underground into the extensive tunnel networks, where they found rooms with some sort of object that created monsters if anyone went near them.
Others went into the Nether and built strongholds out of a kind of material similar to stone. For protection purposes they created new monsters out of magic. It turned out that the End had influenced this place as well; the Blazes instantly went feral, killing everyone in sight. The Pig Zombies, disgusting half-breeds that didn't do a lot of damage on their own but could hurt someone pretty badly in packs, were just too dumb to become completely hostile. They developed a pack mentality, and the pack numbers never went below five. On the Overworld, dogs that had been left behind in the cities also became wild.
Much earlier, the leaders of Project Spawn had decided that they had to do something to save their supersoldiers. All of them had their memories wiped (just in case) and were put in cryochambers set for 2000 years in the future. Hopefully conditions might be a little better by then. Only a small band didn't get into cryo; they had presumably struck out long ago and were officially MIA.
2000 years later, the timers hit zero. The process had completely destroyed every body but one beyond repair, and this lucky person still died. The serum did it's work well –– the survivor respawned. Upon waking up, the survivor found himself standing on a hillside surrounded by trees; the world had changed drastically in 2000 years. There were no people in the immediate vincinity, but there were a few villages, some of which were protected by iron constructs.
The apocalypse had ended; the world had rebounded a little. Although the last Minecraftian didn't remember anything about his life before the respawning, he still had the mining and crafting skills cultivated so long ago; some magical knowledge told to him by a wizard relative also remained in his subconsciousness. Years before being put in cryofreeze, that same wizard had secretly given him a charm that gave godlike invincibility and reality-warping powers, which he sometimes used to soothe seemingly irrational fears of the mobs around him.
The only evidence of the glorious civilization that dominated the world are the temples, which were booby-trapped to prevent monsters from stealing their treasures and well taken care of before it's dying off. All other proof has been lost to the sands of time.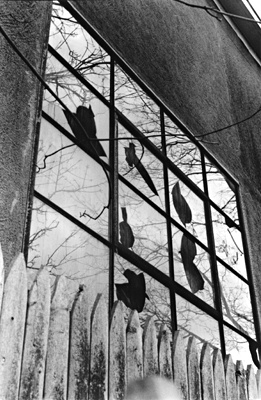 © Halsey S., Marblehead, MA