Once Upon a Dreary Day in April
June 19, 2009
Of a more dreary day I cannot speak. Rain came down in torrents, causing the roof to leak and poor dear Mimosa to run about with giant pots to contain the constant dripping. Outdoors was nothing but a solid wall of gray, for one could see but an inch beyond their own nose in the downpour.

With all the commotion over the water, I was left to my own devices and set to wandering in a bored stupor as was my wont, trailing a finger along the bookcases in the library. I let the constant tattoo of rain upon the shingles above send me into a trance, and every so often one of the older tomes would send a puff of dust from it's bindings to tickle my nose.

The library had always held a certain magic for me. Even before I could read I would often meander among the shelves and imagine for myself tales that I might find squished between the leather-bound pages.

In one passage I chanced upon a large puddle. It was far to wide to step over, and spanned the entire distance between the shelves, preventing me from going around.

The rain had ceased in my wanderings, and I glanced upon my reflection in the water. I stuck my tongue out, and so did she. I smiled and so did she. And then when I was still she waved, a greeting from the land of reflections, where we are upside down and they are right side up.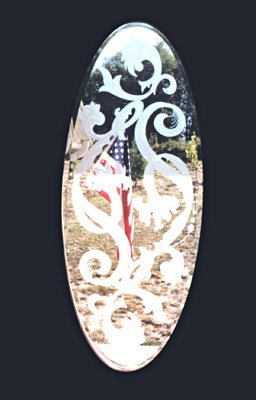 © Ann R., Rainier, OR