My History of Time
July 10, 2009
My weekend was a minute, sixty movements of a long hand—rapid, in succession. My morning has a lifetime, locked in chains, gagged with a dirty rag, because of the 6 hours of sleep that were really just a blink, a moment, a second. My weekend was a minute with moments of laughter, exhaustion, childcare, and cooking. My weekend is but a flash, melting cheese on flatbread, hurried exhaustion, groggy morning odyssey headed towards a box of donuts.

My time is different than everyone else's. They say there are one and a half more months of school; for me that is six-hundred afternoons at the zoo, passing fast but like stone, unmovable. Its four hundred and thirty-six movies, one after the other after the other, silent movies, action movies, comedies, romantic dramas, historical documentaries, until your eyes sag but you still can't find the comfort of sleep. To me the first semester was a good opera, watching bows, the three hours of singing and costume went by so fast, now I'm at the applause and it doesn't seem to end. We've been applauding since 1549, we're shriveled and old and still the second semester is rolling at an ungodly pace.

2000 B.C. wasn't so long ago. Jesus didn't live that long before us… before me. I feel connected to history the way most are connected to their past. I knew a Pharaoh like I know my best friend, lying on the floor watching bad TV. I know my dog like I know a giant dinosaur, walnut brain, eating my mother's hydrangeas. Marching waiting for a revolution from Stalin; they are my life blood, they are my sad flesh and my cracking bones. World War I is rushing to my head, drowning in my red blood cells, the wars are in my blood, the war is in my head. Evolution is in my hair, and the French Revolution is in my finger nails. History was just yesterday, America is still a new born babe. Lincoln was shot just last week, while last week seems like a lifetime ago. Maybe I wasn't meant to live in the present. I live in my mind, I live with the past.

To read a good book I feel I need to take all the time in the world. To read my book I have taken America's past, I've taken World War II, I've taken the Russian Revolution, so I could savor every word with an accent of intelligence, and Indian accent, and English accent. When I read the last page I have hit the end of time because I've taken all the time in the world and stuff it in a box, burned it up, now it's gone into a frame of rising smoke. By taking everyone's time, I have invested myself in the past. By stealing time to get to the present have condemned myself to live in by the mothball infested skeleton in your closet with bark shoes and taffeta ball gowns. I feel as if my draw towards the past has taken all my future. I've taken all the time, mine, yours, the woman on the bus will never get to her stop; the man in the war will never see his children again. I took their time because mind wasn't enough to read one book, to do everything that I wanted. Like a slowing and eventual stop of a movie at the end, you hear the sound system fail, the projection fail and you've left an empty movie theater with a dark screen and sticky floors.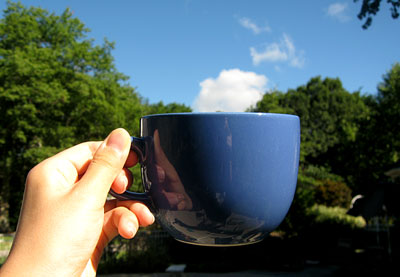 © Chae Lin S., Providence, RI