Heart-Stopping Smile
November 27, 2009
I can hear the wind whisper in my ears.
I shivered at the icicles that ran up my back.
The soft melody of two dancing cardinals fills my mind, and I sit down on the bench.
I start shivering violently. If only I'd remembered my jacket.
My phone buzzed in my pocket, making me jump.
I pulled it out and pressed the green button with my frozen finger.
"Hello?" I said, my voice quivering.
'Hey, I see you." Joey said.
"Stalker." I joked.
"Can you see me?" he said, ignoring my remark.
I heard a honk and looked behind me.
Sure enough there was the blue truck.
And in the drivers seat was Joey.
"How did you find me?" I asked, still sitting there.
"I followed you." I saw him smile.
I hung up and ran over to the truck.
"You followed me? You really are a stalker." I laughed.
He gave me that heart-stopping smile and waved me to get in.
I sat down and buckled in. "Where are we going?" I said.
"The mall." he mumbled, starting the truck.
"Why?"
"It's a surprise." he chuckled.
I rolled my eyes and settled in for the long ride.
When we got there he walked with me like we were a couple. His arm around me, whispering loud enough for everyone to hear but soft enough to make me shiver.
We weren't together.
I thought we were friends.
We went on and on never knowing since eighth grade.
Did that change?

We were in there for the whole day.
My dad called many times, checking up on me and "Alicia" while we were shopping.
Joey bought me a gorgeous dress to ask me to Snow week. And it fit too. Perfectly.
We ate Dominoes pizza and talked about how and when to tell my dad about our relationship. Then, he drove me to Alicia's, and walked me up to the door.
I was desperately hoping she was home and turned to knock on the door when Joey turned me around.
"I love you." he whispered. "And I'm sorry I waited so long to tell you."
Then he leaned in and…

* *** * *** * *** *

I bolted upright it bed and glanced at my clock.
Two in the morning.
I felt a tear drop as I saw the postcards from Wyoming on my bedside table.
'He's not coming back' I thought, and lied down again, closing my eyes.
And let my heart ache.
Dreaming of that heart-stopping smile.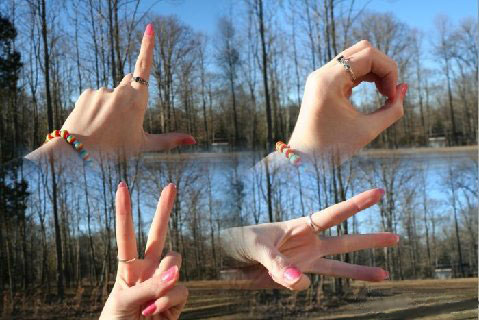 © Kayla D., Croydon, IN