The Ballerina
December 13, 2009
The curtains open, she is in position. The lights shine bright, creating only silhouettes of the audience. There is an intense pause, and the music begins. She becomes one with the music, floating across the stage, turning and leaping. Her toes pointed, her arms rounded. Her movement is an art.

I am the ballerina. When the lights come on, and the music starts she becomes unaware of the world around her. I sometimes go without noticing the world that is around me. She floats around on the stage, like I float around in thoughts. The way she moves her body, her herself is a work of art. Me, I am also art.

Others join her on stage, they all move in sync with one another. Although she may move with and among them, she dances differently, with passion and feeling. A few more grand jetés and an Arabesque, the music fades, and the silence returns. She is finished. She holds her position, her breathing reflecting how hard she danced. The audience breaks the awkward silence with clapping and cheering. She steps forward, and dips for a bow. She may have danced in a show, but what she felt and how she danced was all real.

The others joining her on stage didn't dim her movement. I can still shine when in a crowd in people, sometimes being in the world but not of it. Like the ballerina, I try not to make what I do a performance. I try to be real, not only with others, but more importantly myself. When the curtain closes, at the end of the day, people appreciate that.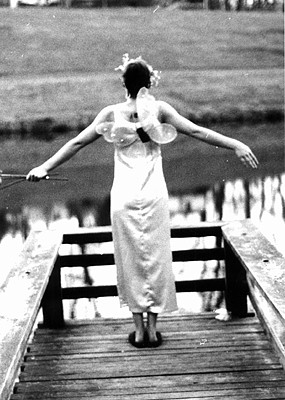 © Jessica T., Cincinatti, OH