Crush
February 22, 2010
I called out to the girl and she looked around confusedly but did not move from beneath the crumbling band room ceiling above her. Horrified, I ran at her as the ceiling began to fall, and even though she heard someone calling her name, she remained precariously placed below the chunks of falling plaster. I rammed into the poor girl and hoped I had pushed us both out of harm's way as we both fell to the floor.



"This is your seat for the rest of the year and here's your textbook. Class, this is Ryan Phillips from Austin, Texas. Now, take out your notes that we were taking yesterday and…" I sat in the seat Mr. Evans had pointed at and took out my notebook to take notes. We were doing nuclear chemistry, which we had been ready to start back in Austin. Though there weren't any laptops and the classes were miniscule in comparison to Austin, the curriculum at this school and my old one were exactly the same.
I looked around at my classmates. They all wore long sleeves, which was advisable considering the average temperature in Darren, Minnesota in January was -10 degrees Fahrenheit. My mom, my little sister Julia, and I had gone shopping the first day we got here since all the clothes we owned were short sleeves or shorter. I was trying to guess how many kids were in Darren High School when the bell finally rang and I packed my bag and rushed to the far wing of the school where the band room was situated.
I unpacked my saxophone and found the music we were working on. The music was challenging but nothing a little practicing couldn't fix. The director tapped his baton, we warmed up, and then he helped each section individually on some harder runs. The flutes in front of me talked and tried to mouth sentences to each other across the row. I couldn't help grinning at their antics; they were like a sideshow.
"Did you get my note?" a redhead mouthed to a blonde.
"What?" the blonde mouthed back.

The redhead then whispered her message into the ear of the girl next to her, who passed the message all the way down the line to the blonde. Her eyes lit up and she smiled and nodded.
"Why did Jared shave his head again?" she mouthed back.
The redhead rolled her eyes and mouthed, "Because he's weird, I don't know!" I laughed aloud here, thinking I could get used to this arrangement. At my old school, the saxophones were behind the clarinets, not anywhere near as much fun. At that moment, all ten flutes turned to look at me. Apparently, they'd noticed my laugh.
The redhead in first chair whispered, "Hey, I'm Hannah, this is Courtney, then Abigail, and Harmony, then there's Jenna, and Grace, that's Melanie, and Emily, that's Caroline, and finally Lynde. Where are you from again?"
"Austin, Texas. Are you guys always this entertaining?" I asked, hopeful.
"What do you mean?" Hannah asked.
"I mean, do you always try to talk to each other without talking?"
"Oh, yeah. Sanders loves us too much to ever yell at us. Oh!" she turned, flustered and began to play the part Mr. Sanders had just called out to the flutes. I tried going over their faces in my head while we all played. Hannah was the slim redhead with a long face, Courtney was a brunette, real dark colored, and very short and a heart-shaped face, Abigail was another redhead, though hers was more auburn and had crooked teeth and braces, Harmony was a tall brunette with thick curly hair and big brown eyes and a heart-shaped face, Jenna was a tiny blonde with small features. Grace was the blonde Hannah had been talking to before. She had a round face and lots of dimples. Melanie had short blonde hair and a rectangular face, Emily was rounder and short with light brown hair, Caroline was average height with short black spiky hair, Lynde was a tall African-American girl with very long hair. Once I had each face memorized with a name, band was over, as was the school day. I packed up my saxophone and watched Harmony and Jenna walk down the hallway to their bags together and laughed aloud at the ridiculous contrast the two best friends were. They both turned around and laughed at me too. I was liking it here.
Once I got home, I started on homework and helped Mom and Julia make dinner.
"So, did you guys meet anyone nice today?" Mom asked.
"Yeah! This girl named Adelia was really nice. She showed me around before class started and she's in my class. What about you Ryan?" Julia gushed happily.
"I sit behind the flute section in band and they're all nice. My other classes didn't really give me a chance to talk to anyone," I answered. I remembered their hysterics and smiled to myself.
The next day I noticed Harmony and Jenna were in my Biology class and Harmony was in my Honors English class. They told me they were the only sophomores in the flute section. Well, Jenna did. Harmony just sat and smiled most the time. Sometimes I'd glance across the aisle and see staring at the wall with her eyes glazed over, her foot tapping to an unheard beat. I'd watch her shake herself out of her trance and start taking the notes. I would smile and shake my head and take my notes, too. My other classes were full of people in band and I talked to them until the day finally drew to a close and we all arrived in the band room. Jenna and Harmony turned around right away and we talked about everything and anything, Harmony actually joining the conversation after a while.
Her voice was lower than Jenna's and seemed almost musical. Once and a while she would laugh and it was like a song in itself. Her smile made me smile and I found myself watching her fingers move as she played and observing the way she twisted her hands when Mr. Sanders told them they were playing something wrong. Several times my neighbor, Josh, had to nudge me because we were supposed to be playing and I was watching Harmony. My second day and I think I was already falling for a girl. It wasn't like me to like girls immediately. In fact, no girl had ever really appealed to me before. They were pretty but I had never really "like" liked them before.
"Dude! What is your problem today?" Josh asked. Everyone was packing up and putting their instruments away.
"Nothing. Just distracted," I mumbled, packing up my saxophone. That night, Mom asked if something was wrong because I was staring at my plate of food without moving an inch. Then I put my pajamas on backwards. I really had to shake myself out of this.

The next day, I watched Harmony closer. Tried to guess at why she reacted the way she did. She would blush when teachers looked at her, she would roll her eyes when Mr. Evans asked a question. I couldn't decipher most the things she did, but it was entertaining to try. I found myself eager for the day to end so I could talk to her again. When eighth period finally came, I was nearly skipping down the band hallway.
Harmony turned around before I even struck up conversation and I felt my stomach do a flip when she smiled and asked me how my day was. Gosh, I was losing it. We talked and laughed all period, Jenna making some comments of course but Harmony spoke more often than Jenna did. She blushed when I asked her about the blushing and eye rolling but didn't answer. I felt Josh staring at me the whole time but I really couldn't care less. After class, once Harmony and Jenna had gone and we were packing up our saxophones, Josh finally spoke.
"You're falling for Harmony Parker?!" he asked, his voice insultingly incredulous. It made me kind of mad.
"Yeah, I think so. What's your deal?" I knew I was being overly defensive but really, why did he care?
"I didn't mean she's not, you know, it's just, I've known her since diaper days, I just can't see… But I guess you wouldn't have that problem, would you? Never mind, never mind…" Josh said, fading off. Huh. Maybe she'd gone through an awkward stage or something. I fell asleep that night thinking of her, of how I'd have been grateful if I'd been able to know Harmony my whole life.

The next day after band was over and I was still dazed from how Harmony had complemented my hair. I'd actually combed it that morning and would definitely do it more often. Josh interrupted my moment of glory with his obnoxious questions.
"So, when are you going to make your move?" he asked callously. But it puzzled me. I hadn't really thought about it but now it seemed obvious. If I didn't ask Harmony out at some point, she'd just think we were friends, which would be very, very bad. But I really didn't want to rush things.
"I don't know. What do you think I should do?" I asked.
"Well, I don't really know Harmony but she seems kind of shy so maybe you shouldn't ask her out too soon. Give it a week or two," Josh answered, unexpectedly helpful.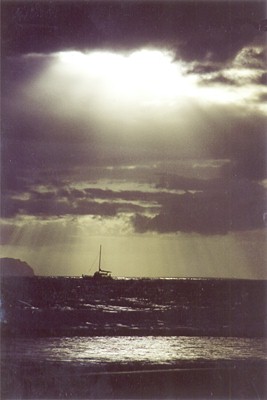 © Lily H., Kekaha, HI