The Shoes
November 5, 2008
Alice wanted to borrow the shoes for prom, but I don't think I can let her do that. You see, he gave me the shoes, and I was wearing them the day he died. I can understand her desire for them though, they were truly perfect. The rich royal blue stitched to the brilliant turquoise, the edge of each piece of leather rounded, giving the shoes a bubbly and lively look. The stiletto-thin spike contrasted the rest of the shoe by making it look sharp and brisk. Their only flaw was a small red paint splatter on the left shoe; I used to imagine it was a drop of blood from my heart when it broke.

He had been sick for some time. The cancer had spread throughout his body making life miserable. He never told us how much pain he was in, but one look at him and you knew.

I tried to make life as normal as possible for him. That was all he wanted. We still went out to see movies, and afterwards we discussed how bad, or sometimes good, they were. He still took me shopping, and bought me everything that I could want and more. Most importantly, he still asked me to bring over my latest project and he would critique, but mostly compliment, it.

For my whole life, he was the only one who really understood my need and drive to paint. My parents wanted me to focus more on school and do something boring like go to law school or medical school. He always thought that I could succeed as an artist. We would go to art stores together and he would stand behind me, or at his worst sit in a wheel chair, while I combed through the store looking for a soft thin brush, or a cold hard black. When we got to the counter, he would take out his credit card and hand it to the cashier.

It seems that every time we were together I was wearing those shoes. He bought them for me for my fifteenth birthday. At the time I was going through a tom-boy sneaker phase. He handed me the beautifully wrapped bubblegum-pink box and said, "A lady must have her glass slippers, but unfortunately they didn't come in your size." Fearing some kind of pink 6-inch high monstrosity, I tentatively unwrapped the package. Inside (lying on a bubblegum-pink scarf) were two beautiful blue and turquoise shoes. As gently as if they were indeed glass slippers, I slid them on my feet. A perfect fit.

Ever since then, I wore them whenever I could and whenever my parents couldn't see. They were horrified that he gave me shoes, not to mention heels. I was forbidden to wear them, but in my mind and his, what they didn't know couldn't hurt them.

I loved to wear those shoes when I painted. They always gave me the sense of confidence that whatever I put on the canvas would look perfect. I was, of course, incredibly careful with them; but one day I spilled a drop of red onto the left shoe.

I was working on my current image of a fox sitting on a log eyeing the viewer with a haughty glance. This was one of his favorites, and I was putting on the final touches so I could show it to him that evening at dinner.

My paint brush was loaded with a sharp red when my cell phone vibrated. The only person who would call me on a Sunday would be my mother, but she knew she could only call me in case of an emergency whenever I was painting. With that realization, the paintbrush slid from my left hand landing on the table. The shock of the fall sent paint flying everywhere, and a single drop found its way to my shoe.

He died that day. I made it to the hospital to say good bye, but it was too late for him to respond. Not that it mattered; there wasn't anything to be said. He knew I loved him and I knew he loved me.

But perhaps I should let Alice take the shoes. He would have liked that, knowing that his gift was making someone else's outfit perfect. My grandpa took so much joy in making others happy; I think that's why I loved him.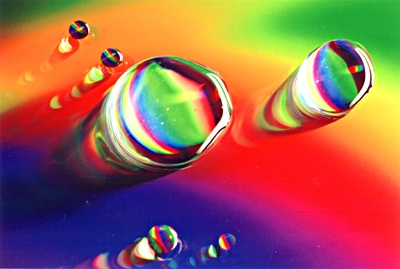 © Anonymous