Table for One
February 26, 2010
"Table for two." She says to the hostess. She sits down at a table at the back of the small café. A table meant for two, not one. She smiles shyly at the waitress that brings her coffee. Quietly she says "One more please." She motions toward the empty place set on the opposite side of her table.
"Oh, are you expecting someone else?" the waitress replies.
"He's already here." Again she points he finger to the other side.
The waitress looks puzzled as she hands the woman one more cup of coffee. She leaves and the woman places the second cup across from her, at the empty place set. The woman pushes a strand of dark hair behind her ear, and sighs. She starts to move her lips. Is she talking to herself? Or to someone else? The empty space replies but only she can hear. Confused, I inch my chair closer and try to listen. She speaks to the empty space about her work, what movies she's seen, and he upcoming activities. The space answers back, and again only she can hear. She laughs when he makes a joke. She listens intently as he tells a story. But I hear nothing.
I pay my bill and get up to leave. I walk out through the door and onto the dark, rainy street. I look back into the café and I see a woman. She is sitting all alone at a table for two, head in her hands, crying. She realizes that the "person" she was talking to does not exist and never will. But then again, she knew that all along.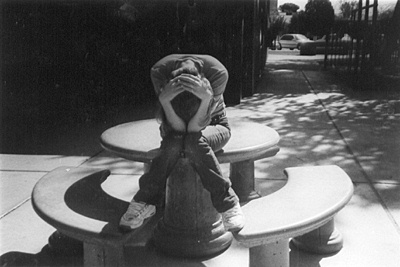 © Catherine R., Phoenix, AZ