Dismayed Yet?
May 26, 2010
Everything around her doesn't seem real, and if it isms, she would never be aware. Her hallucinations blend in with reality, like angels to heaven, and she can't put her finger on which are real and which are fakes. High school was hard enough without her hidden schizophrenia-- yes, hidden. She thought that if anybody knew, they would hate her and call her names.

Dismay is her name, odd as it seems. Her parents were dismayed when it was a girl with a tuft of platinum hair, which now curled around her pretty neck and face like a wreath.

She wasn't born wit the hallucinations. It was when she fell out of the tallest tree on her family's ranch, and hit her head on a thick branch.

Dismay knows she isn't crazy. She just sees things other people are too narrow-minded to see, such as little toddlers and scruffy cowboys. Her favorite hallucination was Ella, a Hispanic girl with beautiful thick black hair who claimed to know the president.

The kids called Dismay insane when she talked to Ella, only because they couldn't see her. Dismay acted like it didn't hurt.

But when she got home, she let the tears fall.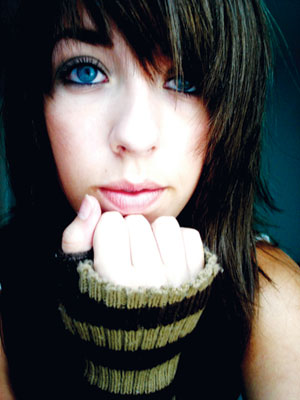 © Brit H., Peabody, MA