Headphones
December 21, 2010
I took a few more steps on the concrete. Fine hair flapping against my cheeks, I looked up at the brick wall. Laughing, smiling. I flicked my view back to my feet. Curious, I peeked one more time. Holding, kissing. I strode further along.

The pavement grew colder as I made my way to the bus stop. My footsteps felt heavy, as if they were being pulled to the earth. The grey sky absorbed my dismal feelings and expelled a faint drizzle. Feet, glasses, face, all wet with emotion.

"You'll need 50 more pence because your railcard expired," the bus driver asked me as I boarded the lower level. I fumbled through my bag and paid, then hastily climbed the stairs to the upper deck.

The squishy cushions of my headphones had never felt so comforting. They pressed against my ears like a pillow, massaging me with exclusion and rhythmic vibrations. I sunk into my chair and the gentle guitar chords and spent the ride gazing out the misty window.

As the bus rumbled and my music shuffled, I started to view the world a bit differently. The pedestrians surely must've felt like this at sometime. The other bus passengers, maybe they were tuning out their day's rejection too. Were we born with a desire to be loved? Were we born with a hope of finding that one soul mate, that lifelong partner? Or are we just programmed to find attraction? Is love chemical? What I saw at the bricks, was it a true connection, or just physical attraction?

When I arrived at home, I turned on my computer. I instant messaged my friend, and she had been feeling the same way.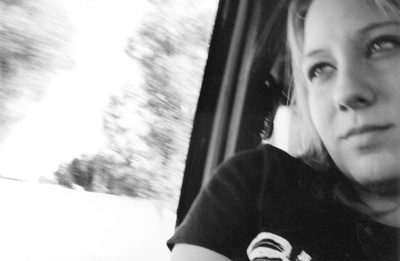 © Zach B., Phoenix, AZ