On Bedrooms
January 11, 2011
I had a vision for my room. In my mind's eye, I saw posters from my favorite bands covering the wall. The space over my desk filled by a cool calendar I created. I painted the back of my closet door with chalkboard paint, and covered it with my favorite sayings, regardless of the language they included. Across the room, my bedroom door was covered in pictures, cartoons, things I had drawn, all stuck there with pushpins, the cute kind from the bookstore, not Scotch Tape. I hate Scotch Tape.
Then there was That Painting. It had big red circles across the front, from paint, not construction paper, paint. There were darts stuck in it. And needles, from my mother's sewing basket. Not that she did any sewing, just buttons, and she wasn't particularly good at that. The needles, there were two of the, were stuck through where I was sure those two eyes had once been. Of course now they weren't visible, due to the red circles. The nose, in the center of the bull's eye, had a metal rod sticking out of it, not into the middle of the room, but off to the side. I didn't want to skewer myself with my hate, of course. On it hung scarves. Just scarves, nothing particularly despicable. Except for that one I had nearly forgotten about, the Hannah Montana scarf I had stolen from my little sister, and pasted his face onto.
In my mind, my bedspread was white, plain white. I changed it however, and made it my own. I covered it with my anime drawings and cute doodles of sunshine and flowers and other things that never seemed to come true. I can never find a white bedspread anywhere. Not even online.
Another thing was the things that would never be there. The photographs, the memories, all the things I so craved, yet they did not exist. I saw those frames they sold in Target, with spaces for sixteen different photos, hung all over my room. There were five of them, in a row, smiling faces looking down upon me always. That I knew was ridiculous, though. People with friends didn't stop to think about how lucky they were.
The ceiling rose ten feet high, and a canopy, sheer white and filmy, hung over my bed. I could pull it around when I wanted privacy, I imagined. But somehow I couldn't think when that might be.
"Lindsay!"
"Yes, Ms. Porter?"
"Come down here at once! You have not finished with the other girls!"
"Yes, Ms. Porter!"
Shaken from my dream, I was once again an orphan, with only the hopes of somebody to love.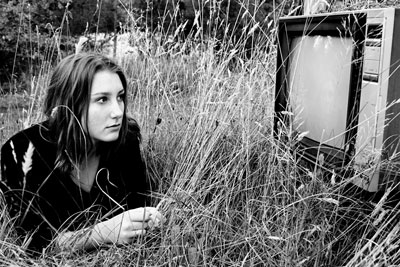 © Garrett M., Port Angeles, WA