The Fruits of Insomnia
March 20, 2011
10:00 PM - I spend this hour thinking about how tired I'm going to be in the morning if I don't go to sleep. I calculate the hours until my alarm goes of. Only 7.

11:00 PM - Reading Shakespeare quotes online. Thinking way to much. Writing delirious sounding poetry.

12:00 AM - Worrying about my family. Missing my mom. Wishing that someone would just walk in and make everything okay. Just for me.

1:00 AM - Reliving the all time lows of my life. Missing the person who told me to call him if this ever happened.

2:00 AM - Crying.

3:00 AM - Writing, I feel crazy. Poems and songs and stories drift in my mind like smoke. Making me cough up words and hindering my vision.

4:00 AM - One hour until my alarm goes off. I'm dreading school. I want to be somewhere else. Thinking things I would never say.

5:00 AM - BEEP! BEEP! BEEP! I'm already up, I think to myself. I get up and get ready, leave for school.

7:00-3:00 School

11:00 PM - And Repeat.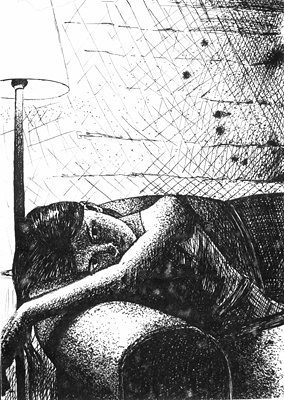 © Elisabeth R., Elmont, NY