If Today Was A Fairytale
April 29, 2011
He walked by my side with his eyes fixed on my iPod, scrolling through the music. A Chris Brown rap blasted into each of our earphones, and both our feet were walking with the beat of it. The sun was setting, bleeding a beautiful pink and orange blend across the horizon and showing through the trees. Our backpacks slapped against our backs with each stride on our normal Thursday walk home from school. The warm air against my skin felt perfect after the past couple of cold spring days.

"Oh, I like this song too," he said. Then the song abruptly changed to a slower tempo of the piano intro of Katy Perry's Not Like The Movies.

I laughed out loud, shocked. "You like this song?" His playlist consisted primarily of the sharp strumming of electric guitars, heavy-metal drums and screeching vocalists.

He laughed too and it echoed through the blossoming spring branches. "Yeah, I mean, I've heard it a few times."

We continued in silence for a few moments, enveloping ourselves in the song and its words: "...If it's not like the movies, that's how it should be..."

I stared down at the sidewalk and shuffled my feet slower now. He scoffed and shook his head. I looked up at him in confusion. "What?" I asked.

"This can't be true- I mean, doesn't every girl want those fairytale moments?" He put air quotes around "fairytale" for sarcastic emphasis.

I sighed and thought for a moment. "Well, sure... But we all get tired of waiting for what seems like impossible." I smiled up at him.

Looking almost offended, he gazed ahead in deep thought. With his gaze still fixed far ahead he replied "It's not that impossible... I've always kinda wanted to kiss a girl in the rain... Like, catch her off-guard. Something to make her feel special."

I stared up at his face. He still looked dreamily ahead, but the little of sun left made his baby blue eyes like crystals. His rugged, chiseled jaw was relaxed under his perfect clear skin. He smiled slightly, beautiful enough to take the breath from my lungs. "...Really?" I asked, breathless.

He caught my eye and grinned. My stomach filled with flutters and warmth. "Not just for anyone."

I grinned back. Feeling my face grow hot, I diverted my eyes sheepishly. I tried to breathe normally again without him noticing. Although we kept our eyes looking in separate directions, I could feel him smiling next to me.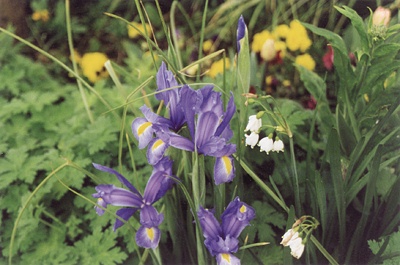 © Kelly G., Norwell, MA