Burned
May 9, 2011
I sit, huddled with all the other candles on the shelf in darkness. Some weep softly, crying invisible wax tears. All of us know that each pounding footstep could be the bringer of our doom.

I was given as a gift to the family a few months ago by an elderly aunt. I can remember her picking me off the shelf, a knowing look on her weathered, wizened face.

"Oh, you'll do," she said in a wavering voice, as old as the Earth herself. "My Maggie loves the summer."

I am surprised that I have not been Burned yet.

Each time the door opens, a quick flash of blinding golden light proves that I am much different from the other candles in the closet. I have a delicate glass shell, stained with the purest blues and greens, colors of the ocean glinting in the bright sunlight. My scent is a gentle reminder of summer, of fields strewn with wildflowers and rivers trickling lazily over thick stones and logs.

Perhaps that is the reason the other candles that are so generic and ordinary, filled with petty scorn for my differences, shun me. I am aware of my uniqueness and beauty, yet they resent me for it. I can feel their hateful glares on my shell, burning gaping holes even in the dark.

Shuddering, I shut my eyes. The loneliness is almost too much to bear. I wish I was gone from this miserable place, where sneers and smirks are all I am given. I would rather be Burned and gone than stay on this malicious closet shelf one more day.

I hear a muted footstep and my eyes fly open. And then, the flash of golden light tells me the closet door is opening. A golden shower of light falls upon us, nearly blinding me with its brilliance.

A woman's silhouette appears in the hazy brightness and her hand reaches up slowly.

"Hmm. Which of you should I Burn?" she mutters, talking more to herself than to any of us. She hums absentmindedly, the tune full of the rich sweetness of spring on the cusp of summer.

A ripple of fear runs through the candles and their whispers become a frenzied stream of cries and shouts. No one knows what happens to a candle after it has been Burned. And yet, I am suddenly thirsting to find out. Pick me! I cry silently. Burn me!

Oblivious to the panic, the woman moves her hand slowly from side to side like a tree swaying in the warm breeze.

She reaches up, her hand coming directly at me. Leaping and soaring like a bird in the breeze, my heart suddenly plunges as she gently takes the candle to my left.

"What about you?" she murmurs, bringing the quaking candle to her nose and inhaling deeply.

She shakes her head and a slight crease appears between her delicate eyebrows.

"No." She puts the candle back, and after a moment's hesitation, picks me up.

Her hand is cool like a water lily petal in the shade, and I am cradled in her as she inhales. Her face flows into a smile, a glorious sunrise breaking upon the horizon.

"This is exactly what I've been looking for." Checking the tiny gift tag attached to my neck, Maggie shakes her head and smiles. "Thank you, Aunt Martha. You always did know that I love summer best."

She brings me into the golden light. Colors surround me, colors I haven't seen in what feels like forever. Taking me to a low table, she sets me down gently and takes a lighter out of her pocket.

"Perfect," she says softly to herself. "What a gorgeous case."

My pulse is quick. Everything seems full of life as the flaring strip of orange bursts into being. Maggie brings the lighter towards me, the glowing flame radiating heat. She puts the flame to me, and I feel warmth rush through me. A summer field filled with flowers escapes into the air as my scent grows. I sigh, completely content.

For the first time in my life, I am free.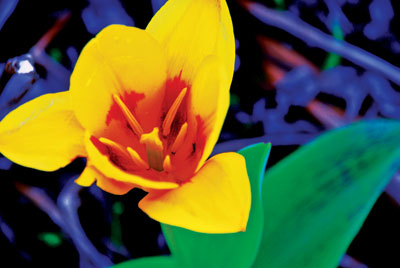 © Hannah B., Princeton, IL