My True Pain
June 20, 2011
"Well... I guess this means there's only one thing left to do. Will you be my girlfriend?"
"YES!!!" I was so happy. I looked at the clock. 11:56. June 17th, 2011. I was now going out with my best friend who I haven't seen for two years. Laying in bed I felt myself blushing as we re-called all the good times we had in seventh grade. Thinking back, I don't think we had any bad times.
"I had the biggest crush on you in seventh grade, but I didn't think you felt the same." he said.
"No.. I felt the same." Smile, blush, giggle. I felt like a teenager with her first boyfriend. "So.. when are we going to hang out?" I asked.
"ASAP. lol" I giggled again. 12:56 "You getting tired? Cus I can go?"
"Just a little. But I can stay up.." I couldn't stop laughing. What was wrong with me?? We both ended up falling asleep at the same time.


We were bored and playing the question game. So far... we have everything in common.
"Favorite color?"
"Navy blue..."
"No way!!! That's my fav!!"
"Ha-ha. Favorite movie?"
"The Water Boy."
"Mine too!!"
"Sweet! Favorite band?"
"NeverShoutNever"
"Creepy..."


The next day we were talking. We had had the same exact dream. "We're so connected!!" He kept saying he was so happy... I kept saying me too.
"We're such a cute couple."
I was thinking aloud when I said, "Why did we wait until now to go out?"
"Because distance makes love stronger."
I laughed aloud, I couldn't help it. I was just so happy. I had an awesome boyfriend, who was also my best-friend. My mother approved of him and let us hang out... alone. Which was a pretty big deal for her.



Summer ended and our schedules became busy. School, sports, clubs, homework. But somehow, we found time. He came to all my games and was my number one fan. He cheered me on, even though he hated thee team. He attended Walkersville and I attended Thomas Johnson High School. After all my games we went to my house to hang out and work on homework together. On the weekends we were inseparable. Always doing something, or nothing, together. I can't remember how many times I got my phone taken away for texting him during class. I just couldn't bear to be apart from him for more than a minute. I could tell my friends were getting annoyed. If I wasn't at practice for whatever current sport I was playing, I had plans with Jordan. It's not like we didn't hang with other people, too. We just hung with other people together. It's not like it was any different from before, we all hung out together on the weekends anyway.


We were going into college. Him to Tulane University and I to Maryland University. All of our friends marveled at our relationship. We were just best friends that occasionally held hands. They all said that we should just stay best friends, but I knew he was more. You shouldn't feel like this about your best friend. He flew up every weekend to visit me in Baltimore. Until one day, his plane crashed. My heart crashed with him. At the funeral, I was crying non-stop. Everybody tried to comfort me but their words just went right through me like knives. After everybody was gone I stayed next to the closed casket. I didn't know what to do. I looked at the ring on my finger. Given to me an hour before he died. I decided to go through with the wedding... without a groom. I would be married to this boy. This wonderful, beautiful boy. Then I would join him in Heaven and live internally.


A month later, I walked down the aisle of a full church. Everyone stared at the silent tears running down my face. I couldn't stop them and I didn't know if I was happy or sad. The priest went through the traditional ceremony and I walked back down the aisle, alone. I got in the limo that would take me to our Baltimore apartment. Where I would change to go on my honeymoon. Paris, the city of Romance, and hopefully my death.

I arrived in Paris at 1:45 pm. I went to the top of the Eiffel tower, where I planned to jump. But when I stepped out of the elevator, a beautiful face looked at the tears in my eyes.
"Ma'am. Are you OK?" His voice was like velvet... like Jordan's.
Stammering, I tried to form words. "I... I... no." I broke down crying. Flinging myself into this mans arms. Later that night, I found out he came to Paris looking to kill himself to be re-united withe his fiancee, who also died on the same flight as Jordan. We decided that this was what their purpose in life was. To bring us together. I kept Jordon's ring on my finger, next to Jo's. And he kept his previous ring on, next to mine. We lived peacefully together. I never found another best friend. But Jo was close, and I think I was close too. We didn't have everything in common, but a little conflict is good, right? He wasn't Jordon... but I could pretend. Jordon always said I had such a vivid imagination. Then again, was any of this even real?


I woke up and rolled over, expecting Jo. But instead, I saw my mom.
"Mom? Where' s Jo?" My voice sounded funny. Scratchy or something.
"Honey... who's Jo?" My mother was crying. What was going on? Why was everything so bright and smell like medicine? What was that beeping?
"Why-what's going on? Mom??" I was scared and I only wanted Jordon's arms around me once again.
"Baby... at Jordon's funeral. You... you fainted and you wouldn't wake up. You've been in a coma for three months."
I felt myself slipping away into the darkness. It felt like an ocean wave coming to take me away. Take me back to him... take me to Jordon I pleaded. I felt myself slipping away. Heard mommy yelling for the doctors. But I wanted to tell her no. Everything was OK... I was going to get him. To get him back. The next moment was filled with doctors, questions, and needles. I wanted them all to go away. I didn't want their help.


A year later, I was sitting in the office of Susan, my therapist. "Have you talked to Jordon lately?"
"No, he's dead remember." I was tired of them treating me like I was stupid. I know he's gone. But that doesn't mean I'm not going to see him again. They have me on suicide watch, which was probably a good thing. Because if I had the chance, I would do it. I would kill myself. I would get on a plane and crash it. So I could see him again. "I love you Jordon." I whispered.
"What was that hon?"
"Nothing... may I leave?"
"Sure." Her smile was so fake. "Same time next week."
"Sure." I say, if I don't crash a plane first.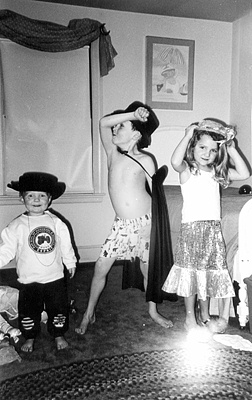 © Courtney M., Marblehead, MA