The Beat of His Heart
July 4, 2011
He turned the key in the ignition all the way off and the humming of the engine ceased, leaving the air empty of sound. He turned his head toward the passenger's seat where Jane sat. The moon reflected off her cheekbones and sent shivers up his spine. She looked up at him, hesitating to leave him for the night. He smiled warmly at her and reached behind the seat to grab her jacket from the backseat.

"Justin? Is my spare house key in the pocket of my coat?" she asked.

Justin fished through the front pocket of the Pink sweat-jacket. There was nothing to be found but a few gum wrappers, a barrette and a quarter or two. "No, sorry."

Jane furrowed her brow and bent over to run her hand under her seat. "I'm sure it's in here somewhere..." Then, she lifted her head and reached for the glove compartment. The small door dropped open and several gift receipts from Forever 21 dropped to the floor of the car. Jane picked them up and inspected them. "What do you shop here for?"

Justin chuckled and shook his head. "No, no, no. Those are Alicia's. That thing is pretty much hers- full of her crap."

Jane stared disapprovingly at the compartment in front of her. She reached forward and dug her hand through the junk pile. Nail files, US Weekly articles, and Rascal Flatts albums fell to the floor next to her feet. She chucked aside small sample perfume bottles violently.

"Jane? What's wrong?!" Justin asked her. He gripped the side of the seat tight.

"I don't think I'm comfortable with this- all her stuff stowed away in your car. I don't think I like it at all." Jane replied without looking up. Her tone was borderline demonic.

Justin sat still, completely stunned and lost for words. "But- she's just my friend. My best friend- she's in this car just as much as I am. She just uses the space. What's wrong with-"

"I'm not comfortable with it," Jane repeated, definitely devilish at this point. The moon seemed to cast an evil glow on her face now. "Both me and Alicia can't fit in this car." It was a threat.

Justin's jaw tensed and disgust filled his gut. She leaned over and kissed his cheek good-night. For the first time ever, the touch of her lips made him cringe.


The next morning, Justin was sitting in his car. He slid his phone shut, ending the call with Jane. She'd screamed for atleast twelve minutes straight, explaining to Justin he'd regret breaking up with her every moment of his life. Last night was the first time he'd ever seen that side of her, and now he wished he'd never seen any side of her.

Justin ducked out of his car and sifted through his short, chestnut hair with his fingers as he climbed the front steps. He turned the doorknob and the front door jolted open. Immediately, the familiar, warm cinnamon smell of Alicia's house greeted his senses. He kicked off his shoes and walked through the hall to the den, the antique wood floor creaking at his every step.

Justin entered the small, homey room, decked with family photographs hung on the walls, and decorative string lights above the windows and mantel. The white carpet felt soft and cloud-like under his feet, and contrasted the small black couch positioned in front of a large coffee table and fireplace.. Laid across the couch was Alicia, writing furiously in her notebook, a collection of poems, short stories, and sketches. Her hair was piled on top of her head in a messy bun and it appeared she didn't have any makeup on. She had on an old Jonas Brothers concert tee with little black Soffe shorts, and her fashionable rectangular glasses framed her big brown eyes (someone lost her last pair of contact lenses). Alicia looked up quickly from her work. "Hey," she said, then continued scribbling away. Without a reply, Justin sat next to her on the couch and stared silently at one of the curtains that was blowing gracefully in the breeze that came in through the window from outside.

Alicia clicked her pen and slapped her writing on the coffee table, turning to look up at Justin. "Okay, what's up?"

Sighing deeply, Justin put his face in his hands and rubbed it hard, hoping to erase Jane completely from his past before he had to tell Alicia about their break-up.

"I broke up with Jane," he finally replied in monotone.

A look of disbelief and sorrow crossed Alicia's face. "Jay. I'm sorry."

He smacked his hands onto his thighs and shrugged. Alicia scooted across the cushion right next to Justin and laid her legs across his lap. She wrapped her dainty arms around his torso and cuddled her head against his chest under his chin. Justin wrapped his arms around her neck and back and sighed again. "No, I think I'll be fine."

"What made you break up with her?" Alicia asked.

Justin paused for a moment. He felt how comfortable her touch felt on his skin. He breathed in the sweet, yet unexplainable scent of her hair that he'd grown so accustomed to over the years. Everything about her felt the same since kindergarten. All she'd done was grow up, but he grew up too. And all Justin could think about was how much more they had ahead to grow up together. He looked down at Alicia. Without saying a word, Justin pressed his lips to the top of her head. Right then, he felt her smile against his chest- against the beat of his heart.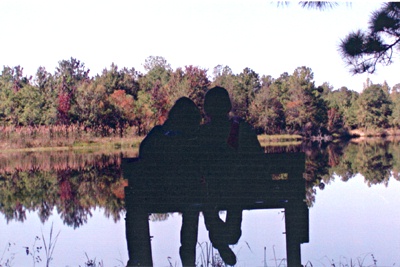 © Heather J., Slidell, LA