Wildflowers
July 20, 2011
With tears streaming down my face, I turned around and ran.

I ran, barefoot and broken, through the open field behind the house, with its overgrown weeds and wildflowers that I loved and my mother hated. I didn't know where I was going, but I knew from what I was going away. I looked behind me, saw how close the house still was, and ran some more. I yanked my perfect bun out of my head, threw my perfect white sweater aside, and ripped off my perfect pearl necklace. I wanted…I wanted…oh I had no idea what I wanted. But it was not this.

I reached the little creek, at least a half mile from the house, and I stopped. I stared down at the river; its movements slow and weak, with rocks sticking out and hindering its progress. It was like my life was this river, slowly figuring things out and making my way through obstacles, while everyone wanted me to be Niagara Falls, rushing and strong. I hopped from rock to rock, managing to soak the hem of my long white dress, as I crossed the creek. I stood on the bank opposite of that house – no, it was not mine, it never had been – and I sank to the ground among the wildflowers. The tears flowed down my face, slowly as the river in front of me. Why was I expected to just be like them? I am me. They are not. Simple as that. But somehow it was not that simple. I looked down at myself, and the utter unsimplicity of acceptance glared back at me. Gosh, I just wanted to be me. Artsy, thrifty, musical me. Not the posh, wealthy girl they wanted me to be. I would not be her. Not anymore, I promised myself as I sniffed and wiped my eyes. I looked up as the clouds thundered and rain started to pour. Then, I lay down in the tall, tall grass, and dreamt.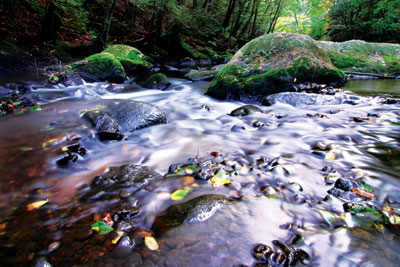 © Matt S., Glastonbury, CT