Voice of an Angel
November 3, 2011
Things can be transformed. Beautiful objects have the outstanding capacity to be able to come from things of less impressive nature. Take a flower for example: the seeds of a flower are not beautiful in the least; they are dark in color, small, and hardy. However, when you plant that seed, and support it with ample nutrients and supplies, it becomes a fragile, angelic, beautiful creation of nature. This outstanding principle applies to other things as well.

Growing up, I was always different; I stood out in freak ways compared to other kids my age. It wasn't because of my two missing legs, my thin wispy hair which only covered the back of my head, or my strange appearance. It was because I couldn't talk in sentences. I couldn't speak more than 3 words at a time, and they could not be more than 2 syllables. "You are an angel, Lily," were the words I would constantly hear through my inadequate ears. People loved me for who I was, and I loved them for that; however, I hated myself. 'It's not fair that it had to be me who got these defects! Why not somebody else? I hate my life!' I couldn't think straight. My favorite phrase to tell my mom would be: I-hate-me. She would then look at me with those sympathetic eyes, and hug me in a warm embrace saying,"Well, it had to be somebody, Lily. You were just lucky enough to get the gift."

As well as my role model, my mother was a fantastic singer. Every night before bed, we would sing my favorite song,"Keep Holding On" by Avril Lavigne. Just once we would sing it, Mom the melody, and me attempting the harmony.

Along with my self-esteem, that attempted harmony changed just last year. It changed, when I found my true voice. For my birthday, I asked for one thing: a way to speak. I knew that this would be nearly impossible, but was surprised when for my birthday, I found an envelope under my pillow. As I opened it, I felt my stomach flutter; inside was a golden piece of paper. I read it, and almost fell out of bed: it was a letter from my darling mother explaining that she had signed me up for voice lessons to find my voice. I will always remember squealing with delight as my mom walked into my room that morning. We must have hugged for at least a half hour.

My first lesson was nerve wracking. If I couldn't even speak normally, how was I supposed to be able to sing in imagined melody? So to comfort myself, I stared at a flower vase that was filled with lush roses. However, I still wasn't confident... but I found my answer as soon as I started to sing... the music just seemed to flow from my mouth, and I was able to pronounce everything clearly. I didn't stutter or stop in frustration, but kept singing. My instructor sat there in shock as my little crippled self was able to sing like a normal person. I may not have had the most amazing voice, but being able to say actual words, was amazing enough for me. I never wanted to stop, for I had found my voice at last. I had been transformed.

When I got in the car as my mother drove me home, she asked what I had learned. I didn't know words to describe my joyful bliss, so instead I started singing our song,"Keep Holding On." I look over at my mother, tears pouring down her face. She takes my hand, and manages to say, "I always knew you had a gift."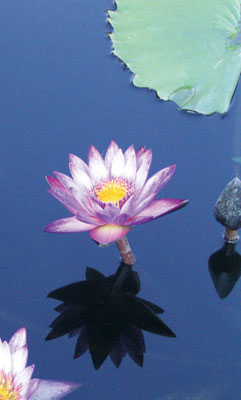 © Hilary B., Barrington, RI