The Boy in the Leaves
November 2, 2012
"Is there a God?" Questioned my 7 year old brother.

"Well, doesn't Mother always say there is?" I answered gently.

"Yes. But-"

"But nothing, there must be a God, because I am blessed with such a wonderful boy like you!" I poked him in the ribs playfully, as he pushed me in return.

We were in a pile of auburn, orange, and yellow leaves. The moist autumn air swirling around our blond hair, as if autumn was saying hello. My brother's name is Ethan, he was neither a pessimist nor an optimist. unlike me, and he saw it like it is.

I put my arms protectively around Ethan's neck, just to pull back in surprise.
"Ethan, what's that on your neck?" I asked, motioning near his collar.
Ethan defensively tried to cover his now visible lump.


"Why didn't you tell me?" I whispered,


"I'm fine, Rose." Ethan tried to convince me, in his soprano voice, yet, I was still worried. However I didn't do anything.
I wish I had.


The following weeks, Ethan lost 10 pounds, his usually skinny figure turned into a sickening, twiggy body. Every night, my mother and I found perspiration puddles on his bed. That was about the time I told my mother about the lump.

"Why did you keep this from me?" My mother yelled angrily.

"I thought he was fine!" I sobbed, choking back my tears.

We took him to the doctor three days, two hours, and 37 minutes later. I remember because my mother left me in my room for that amount of time, also.

"Ethan has non-Hodgkin lymphoma." The doctor said grimly.

"What is that?" My mother asked.

"It's a type of cancer, a type of cancer in the immune system."

The room was once a dull white, yet now the white blinded me with a sudden shock.

"But Ethan can't have cancer, he's my brother!" I complained, as if the doctor was making a mistake.

"I'm sorry; Also, Ethan's cancer is very aggressive. We will take chemotherapy right away, and pray it'll be enough." The doctors voice was monotone, as if he has said this speech several times over, and we were just apart of his schedule.

"Listen here, it better be enough." I said gruffly, tearless gasps in-between each word.

"Rose! Apologize to this man!" My mother ordered.

"It's quite alright…now, how about next Thursday, we'll start chemo then, yes?" The doctor asked, in his same emotionless voice. We all nodded. And Ethan was quiet the whole time; his frightened eyes peered into mine, which mirrored his childish emotions.
"Rose, will I die?" He asked, his face pale from his constant fevers and uncontrollable chills.

"Of, course not, my Ethan. Everything will be fine." I assured him.
I prayed that it would be true.


Ethan's blond hair was gone.
It started out in patches, until we all were tired of it and simply shaved his head.
His nausea was as constant as his unusual sad mood. I would ask him if he wanted to play hide and seek with me. But he would disregard every idea I could think of, as if he was the older sibling.


1 year, that's how long he had.
He spent his days at the hospital more often, as his days of life was slimming down to almost nothing.


It was a Friday, the nurses knew me by name now, I came here every day. Mother was too busy feeling sorry for herself.
She wasn't the one with cancer.
Even before I walked into his room, I heard his weak coughs echo around the halls. I went inside to find his pale, white face. Ignoring his sickly look, I smiled.
"Happy Birthday, big boy," I sang in a voice I rarely used anymore.

"Well where is it?" He asked with an impatience only he could pull off.

"Where's what?"

"My present!"

"I was supposed to bring a present?"

"Stop being stupid."

I handed him the thing he wanted most.
Money.
As selfish as it sounds, it really was quite the opposite.
I saved a total of $243.50, just for him. Surprisingly,
he handed the money back.
"Give it to the hospital; maybe with the money they can make edible food when I'm gone." He mumbled. Lately, he spoke of death as dully as stranger's talk to one another about the weather.

A sudden smirk crept on his face.
"Take me to the park; I want to see the leaves." His voice was barley above a whisper, and I knew that his voice was soft involuntarily.

"I'm not aloud to take you anywhere, Ethan."

"For my birthday, I want to see the leaves one last time."

"You can see leaves out of your window."

"Rose, please."

"ok."


We came to the park, just as the sun turned a majestic orange, which cast a veil of light across the whole park.
"It's beautiful." Ethan said in awe, his eyes watered with joy, his hands flew up in the air as if to say. "I'm free!"

We ended up lying on leaves of auburn, orange and yellow, my body protectively holding him. I started silently sobbing; his white face came inches from mine.

"I love you, Rose."

"I love you, too."

"Ethan?" I asked.

"Yeah?"

"…is there a God."

"Yeah."

"How do you know?"

"I can see him now."

As he uttered those words, his voice faltered, and his stare went blank, leaving me alone.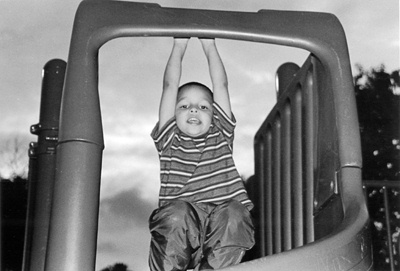 © Yesenia D., Boston, MA