The River
January 30, 2013
I was standing next to the window at the end of the hall. I could not bear to stay in the hospital room with the nurse constantly coming in and giving us the 'update'. "One hour left…Probably half an hour…about twenty minutes, say your goodbyes."

As I looked out through the window to the world below, I saw a river with crystal clear waters that were moving so gently it didn't seem real. On one of the river banks stood a statue of an angel, and a bench. I thought to myself, This river must carry all the rested souls into the bosom of the LORD. I smiled at that thought, but the smile soon vanished as red eyes and wet cheeks called me back into the room.

The nurse was slowly putting her stethoscope back around her neck and shaking her head, saying, "I'm so sorry for you." I looked over at my mother and saw on her face an expression of deep pain, as if her last breath had been a great struggle. I turned away and ran back to the window.

My blurry vision turned the river black and menacing. I wanted to shout at it, "Why?! Why did you take her?" The statue of the angel was suddenly no comfort either, for all I could think of was the cold, concrete angel that would stand atop my mother's tomb.

That day, not only did the river leave my mother cold to the touch, but my heart too.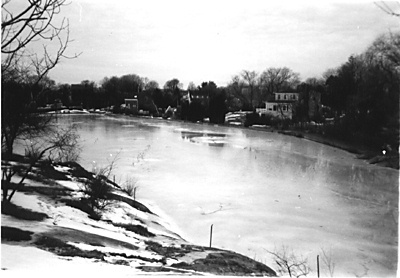 © Leni K., Marblehead, MA