The Invitation
May 6, 2013
Amelia grabbed the pile of mail she had recently taken out of her mailbox and sat with her feet propped up at her kitchen table. She had just come from an exhausting day of mundane work. She let out a sigh as she thought of the repetitive tasks her boss had her do. Then she looked around her tiny apartment as she pulled out her first piece of mail, and sighed heavily. There really was no way to pay the bills.

As she sorted through some junk mail- an advertisement for the dry cleaners five blocks down, a postcard of a local animal shelter, and a few letters from potential credit card companies-she stumbled upon a an invitation to a graduation party. The significance of the invitation was minuscule, as was the significance of the person graduating. In fact, if she had seen her sister's name first, she would've ripped the card up immediately. After all, one doesn't want to see the golden child get their Doctorate from an Ivy League when one is the black sheep, barely finishing community college before settling for a job paying minimum wage in the alright part of the bad end of town.

Still, Amelia kept the card, almost crying. No, she didn't cry; she hadn't done that in years. "Join us at the Drake Hotel on June 12 to celebrate the achievements of…" The location echoed in her head. The Drake. She had so many memories there. Most of them were ended abruptly by a security guard or the hotel manager almost catching her. She spent a summer there, sneaking into the pool and gym area with her friends. It was the same summer she was arrested, robbed, and, subsequently, abandoned.

And now, she was given the chance to go back. Maybe she could find the money this time. She knew where they had hidden it, and she knew it would still be there. This time she would remember to swipe someone's room key to get in. She would remember the exact floor number, and the exact closet it was hidden in. She would count, one two three four, until she saw the loose tile that hid the money. Of course, she didn't know her friends would blame her for the stolen money. And she didn't believe at first that they had taken money from her that was supposed to be spent on her education.

The police came to her family's apartment only a week before her freshman year began and arrested her on the spot. Her parents couldn't afford a great lawyer, but they found one that made her jail sentence last less than a semester. Nevertheless, she couldn't enroll that late into the year, and due to her lack of funds and the sketchy new addition to her otherwise clean record, she couldn't get into a school of preference. With the constant looks of pity and betrayal, she was forced by ego to move away from her family. Her family, who had loved her for eighteen years, and hated her the moment her life wasn't intact.

She wondered what would've become of her if she had found the money that day. She wondered what would be of her if she went to the party, swiped a key, got into the closet, counted the tiles, and recalled the events the same way she did almost ten summers ago. Then she sighed, ripped the invitation up, and got ready for another night at another job with another set of people who would make her feel just as abandoned.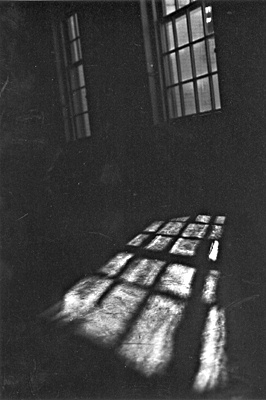 © Mary A., Fullerton, CA